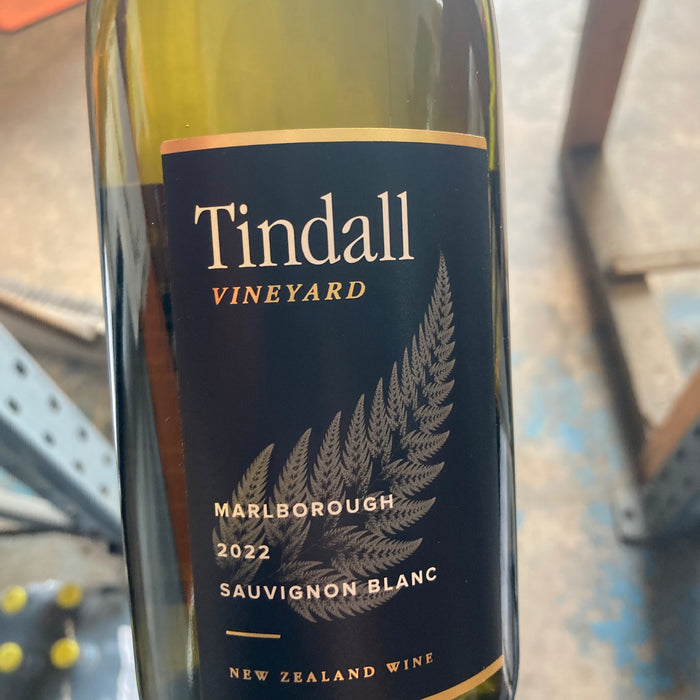 Tindall Sauvignon Blanc Marlborough 2022
Original price
£17.70
-
Original price
£17.70
An exceptionally good Kiwi Sauv Blanc from a low yielding vintage. (2022 - 12.5%)
Textbook Marlborough Sauvignon Blanc with strong red capsicum character, fresh 'zingy' acidity and crispness.
Tindall Vineyards are situated in Hammerichs Road, Rapaura, in the heart of Marlborough, New Zealand wine region. The vineyards are owned by Terry & Lynley Sowman and managed by sons Clyde and Nigel Sowman. The name Tindall Vineyard honours grandfather Henry Tindall.
The estate was purchased in 1993 and was originally an extensive cherry orchard and cropping land. Nowadays 2 hectares remain in intensively grown cherries for the premium fresh market.
The first vines were selectively planted in 1995 on alluvial deposits from the Wairau River.
The vineyard comprises 12 hectares of Sauvignon Blanc, 1 hectare Chardonnay, and 4 hectares of Pinot Noir. The Pinot Noir site was selected for its propensity of yellow clay in ratio to the alluvial deposits. The clonal mix comprises of 667, 777, 5 and 115 which achieves the desire to craft elegant, red cherry/gamey pinot noir.
Crafting these wines into wonderful expressions is the responsibility of Dave Knappstein (senior winemaker at Forrest Estate).
The 10 year old Sauvignon vines were shoot thinned, but poor flowering due to a cool spring and wet early summer, resulted in a low crop of just 6 tonnes per hectare. Perfect ripening weather ensued late summer and early autumn and carried on during harvest. The result was a very good vintage with excellent ripeness and intensity of flavour.
The fruit was harvested during the cool early morning and was immediately de-stemmed, crushed and pressed. The cold settled juice was racked, with settlings fined and filtered, then added back to the fermentation. Fermentation was undertaken at 12-14 degrees for 28 days to retain the vibrant fruit characters. Traditional finings were added prior to bottling.
Alive with aromas of fresh herbs, pineapple, guava, passion-fruit and other tropical fruits. Mouth filling with a refreshing dry finish. An exceptional wine has been produced from a season of low yield.

Delicious as an aperitif, or serve with lobster bisque, crab cakes or smoked salmon. Also great with creamy chicken and pasta dishes.