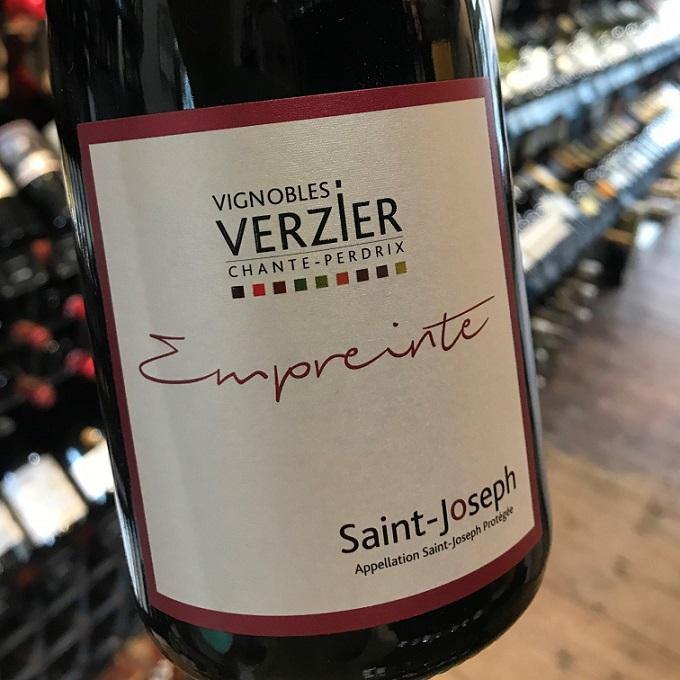 St. Joseph Empreinte 2021, Vignobles Verzier
Original price
£32.90
-
Original price
£32.90
60% Whole-bunch fermentation with wild yeasts before spending 12 months in large barrels. gorgeous Provencale herbs are almost minty in their freshness. It's lifted, with no excess weight, oak or extraction. The lovely brisk acidity brings a real burst of aroma and flavour. An elegant, fresh mineral style.
Perched high up on the steep hillsides above Chavanay, this dynamic estate is run by one of the new generation of vignerons who are making considerable waves on the international market.
Chavanay was one of the three original communes that were included in the original creation of the Condrieu appellation in 1940 and the young Philippe Verzier, who took control of the family vineyards in 1988, has emerged as a leading light in the appellation.
Grape variety: Syrah
Maturing: Oak barrels for a period of 12 months
Aromas: Young spicy red fruits, clean vanilla, black peppercorns
Ageing potential: 5 to 7 years (2017 abv 13%)
The vines: planted on top of hillsides, southeast-facing
Altitude: 280 to 320 m
Climate: Sub-Mediterranean, hot and dry in the summer
Rainfall: rains regularly in the other seasons (approximately 600 to 700 mm per year)
The vineyards were first planted by Greek colonies, before being cultivated by the Romans who were attracted to the very steep hillsides on the Rhone's right bank. The AOC gives its name to the vineyard found between Tournon and Mauves. The wine was served at prestigious tables across Europe and Russia, Charlemagne also enjoyed Saint-Joseph wines. The first written record of the wine dates back to the 17th century, but it was the monks of the monastery that owns the vineyard that gave it its name.
More recently, the wine is mentioned in Victor Hugo's "Les Miserables", "My brother served him some fine Mauves wine that he never drank himself, as he said it was very expensive".
In the 20th century, the winemakers formed a union to protect the Saint-Joseph name. On 15 June 1956, the AOC was made official, running through 6 local authorities (90 hectares).
In 1994, the AOC was restructured and is today spread over 1082 hectares across 26 local authorities. The vineyard winds from Chavanay to Guilherand, and connects Condrieu and Cote-Rotie to the north, and Saint-Peray and Cornas to the south.
Drink Now
Spicy Sausages, BBQ Kebabs
Dry
Medium Bodied
Dark Plum
Syrah
Rhone Valley, France
Domaine Verzier
2020
Contains Sulphites