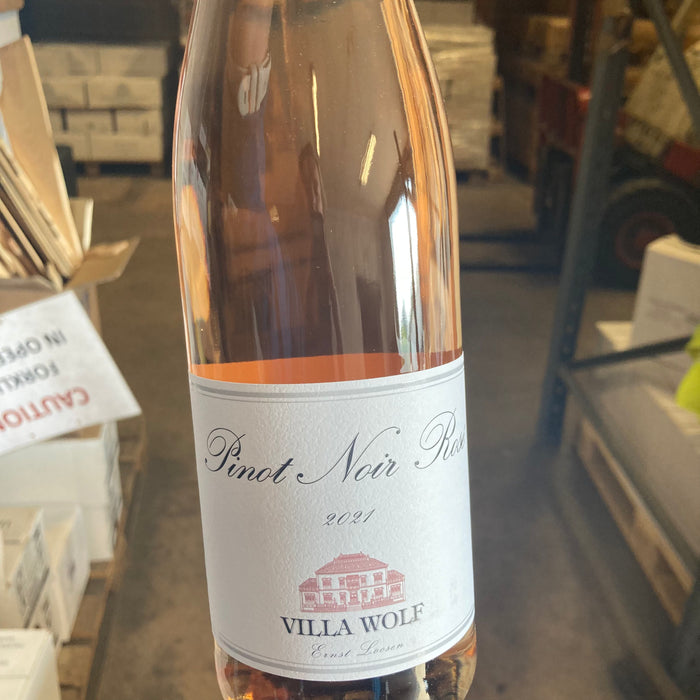 Pinot Noir Rose 2022, Villa Wolf
Original price
£13.20
-
Original price
£13.20
Pale rose, salmon pink. Hints of rhubarb and raspberry on the nose, rich full flavour, off dry with a creamy texture and a splash of strawberry essence running through the middle. Delicious summer wine. 12.5%.
In 1996, Ernst Loosen took over the languishing J.L. Wolf estate in the Pfalz region of Germany. He did it because he wanted to make world-class dry Rieslings that would complement his fruity Dr. Loosen wines from the Mosel. Delicacy and mineral fruitiness are the greatest attributes of Mosel Riesling, and those qualities are often lost when making the wines dry. This is not the case in the Pfalz.
The Pfalz region lies between the Haardt Mountains and the Rhine River, directly north of France's Alsace region. In fact, the Haardt Mountains are part of the same geological formation as the Vosges. As in Alsace, the mountains protect the region from the harsh Atlantic weather, making it one of the warmer and drier areas of Germany. This means that achieving full ripeness is seldom a problem. That's important because mature fruit is essential to making concentrated dry wines that have enough terroir-driven body to balance Germany's naturally high acidities.
For Ernst, taking on the J.L. Wolf estate was deja vu all over again. As with the Dr. Loosen estate, Ernst seized the opportunity to revitalize a once-famous wine estate blessed with old vines in great vineyards. The two estates also have similar locations: The Dr. Loosen estate is in Bernkastel, at the heart of what is called the Middle Mosel, while J.L. Wolf is in Wachenheim, at the center of a picturesque wine area known as the Middle Haardt.
Drink Now
Aperitif, Chicken, marinated pork
Dry
Light Bodied
Pale Pink
Pinot Noir
Rheinpfalz, Germany
Villa Wolf
2022
Contains Sulphites