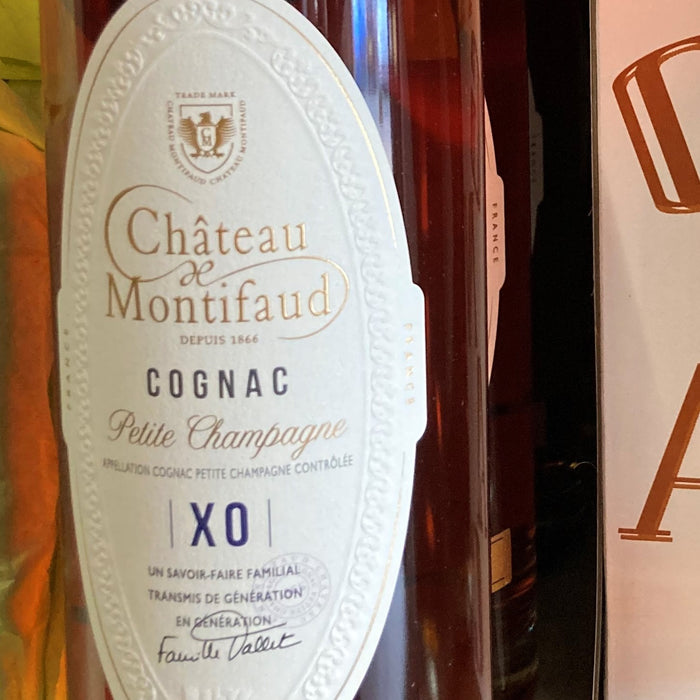 Petite Fine Champagne Cognac XO, Montifaud
Original price
£98.35
-
Original price
£98.35
XO : "Remarkable aromas of dried fruits and, in particular, grilled almonds.Great freshness and not too tannic. It is characterised by its mellowness and its great long-lasting taste in the mouth. Rancio is very present. Hints of spices appear."
Chateau Montifaud has belonged to the Vallet family for six generations now, the vineyard being created in 1837 by Augustin and has seen the succession of Pierre, Maurice, Louis and Michel. Laurent came to join his father and grandfather in October 2000.

According to the family tradition, when a son joins his father, a part of the cognac distilled in that year is set preciously aside and will only be sold by the future generations.
To obtain a floral eau-de-vie (wine spirit) which truly represents the 'Petite Champagne' vintages, harvesting a healthy grape crop is extremely important. The grape varieties of Colombard and Folle Blanche are harvested first and then followed by the Ugni-Blanc. The grapes are crushed upon their arrival at the winery in order to avoid any sort of oxidation. In 2004, the Vallets installed three pneumatic presses of 50 hectolitres each to improve the pressing (a 50 hectolitre capacity was prefered over 80Hl or 100Hl with the aim of reducing the filling time and, thus, oxidation).
Thanks to an efficient cooling system with which our stainless steel tanks are equipped, the fermentation temperatures never go over 24 - 25degC so as to privilege the floral qualities resulting from grapes grown in Petite Champagne. The wines are stored with their sediment for better keeping and to prevent oxidation. No anti-oxidizing agent is ever added to the wine, the high level of acidity alone allows a good keeping of the wine up to distillation.
After analysis, we begin distilling our wines as soon as they reach their malolactic fermentation stage, generally at the beginning of November and to be finished at the end of January-beginning of February.
At the time of each important step of distilling, it is Michel or Laurent Vallet themselves who carry out this operation. The wines are distilled with their sediment in order to concentrate the flavours and to accentuate the roundness and suppleness of our 'eaux-de-vie' "wine spirits".
The presence of sediment in the wines results in a slower distillation at low heat which results in more suppleness; this is followed by a very thorough cleaning of our boilers after each distillation.
When ageing their brandies, family tradition favours the floral and fruity character of their cognacs. For this, they always apply the following rule : avoid any excessive time spent in new barrels. Their casks of 350 litres are made of Limousin oak which is personally selected by the Vallets and their cooper and stored for three years before being used.
The work in the cellars is handled uniquely by Michel and Laurent Vallet as is the blending when they will use many different vintages with the express desire to achieve uniformity. Nevertheless, they do not blend Grande Champagne spirits with petite Champagne.
All bottling is done at the domaine.
Drink Now or Keep
Digestif
Dry
Full Bodied
Golden Yellow
Colombard, Folle Blanche, Ugni Blanc
Cognac, France
Chateau de Montifaud
XO
N/A