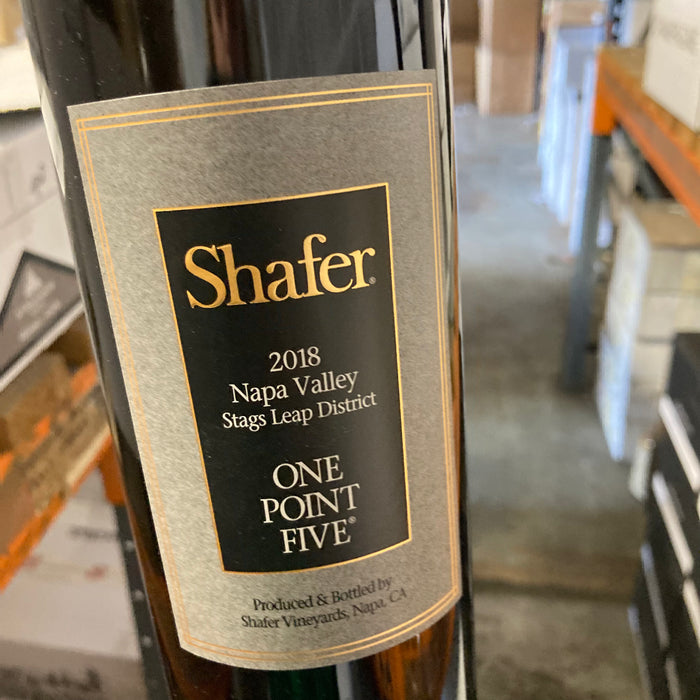 One Point Five Cabernet Sauvignon 2018, Shafer
Original price
£96.50
-
Original price
£96.50
One Point Five Cabernet Sauvignon

Shafer Vineyard, Napa Valley

"This is a Cabernet that is enjoyable now and will just get better with time in the cellar. Aromas of rich, polished black fruit, mocha, and spice, followed by fulsome, juicy flavors of blackberry and black cherry, chocolate, plum and cedar, with ripe, smooth tannins and a pleasingly long finish," says Shafer Winemaker Elias Fernandez.

"A Stags Leap District Cabernet was our first wine back in 1978," says Doug Shafer, president, Shafer Vineyards. "This is our home. This is the place we know best and the fruit we've been cultivating for more than 30 years."

The Shafer family purchased their Napa Valley hillside estate in 1972, a property that had been the site of wine grape cultivation since the 1880s. John Shafer planted Cabernet Sauvignon on the property in the early and mid-1970s and from those vines made his first wine in 1978.

Shafer released that first vintage (100 percent Cabernet Sauvignon) in 1981 and Doug Shafer joined his father at the winery, as winemaker, just two years later.

"Dad and I learned the wine business together,' says Doug. "At some point we coined the phrase 'a generation-and-a-half' to describe our partnership because it wasn't the classic second-generation story where a parent hands off an established, profitable family business to a son or daughter. We were both here in the fingers-crossed days when no one was sure the winery would be a success."

The One Point Five label takes its name from the generation-and-a-half idea.

One Point Five is sourced primarily from two Stags Leap District vineyards – Shafer's hillside estate and the Borderline vineyard located two miles south of the winery, a 25-acre site purchased by the winery in 1999.