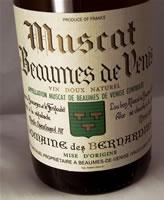 Muscat de Beames de Venise 2022 Bernadins
Original price
£26.55
-
Original price
£26.55
The tiny village of Beaumes de Venise is just north east of Avignon and it is here that a unique sweet fortified wine is made from an intensely scented grape - the Muscat. This grape is the most grape like grape of them all, smelling and tasting of, well, grapes. When ripe, it is heady and floral with an unforgetable grapey aroma.
Vin Doux Naturel is really a bit of a misnomer as the process is not exactly natural! After harvesting, the very ripe grapes are pressed and the resulting juice is fermented until it reaches about 3 percent alcohol when brandy is added. This knocks the yeast on the head, stopping fermentation when the wine is at the level of sweetness the winemaker is looking for - allow fermentation to continue and all the sugar would be converted to alcohol. The result is a deliciously sweet wine with pure fresh grapey character and great acid balance that in no way cloys the mouth.
Domaine des Bernardins is one of the oldest and most respected producers of Beaumes des Venise and actually helped create the appellation in the early 1940s. Their style is a bit heavier and perhaps less aromatic than some but is regarded as one of the best. Copper/orange in colour with a ripe, grapey aromas with a twist of orange blossom and hint of spice. Rich in the mouth, soft and silky with a touch of honey.
Drink Now
Digestif
Sweet
Medium Bodied
Golden Yellow
Muscat
Rhone Valley, France
Domaine de Durban
2022
Contains Sulphites