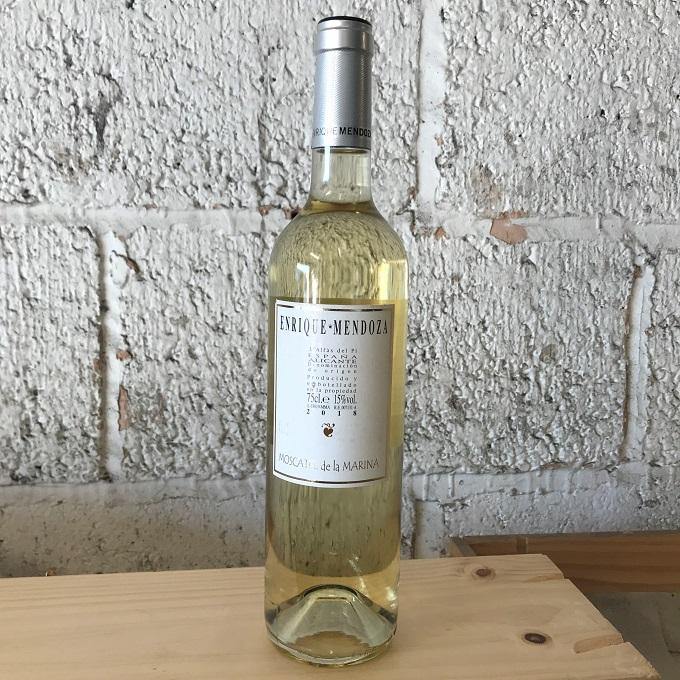 Moscatel de la Marina 2022 Enrique Mendoza
Original price
£16.85
-
Original price
£16.85
On the nose, the fresh Muscatel (Muscat) character (musk and orange blossom) combines with honey and balsamic aromas. On the palate, it is light but surprisingly pervasive with a perfect balance between sweetness and acidity. This wine will be the perfect match for most desserts, lemon tart in particular. (15% abv)

This Moscatel is produced in the same way as a Vin Doux Naturel in France: grape spirit is added to the intensely sweet juice once a certain level of alcohol has been reached. This kills the remaining yeast and stops any further fermentation dead in its tracks, thereby preserving the natural sweetness. A lot of Moscatels can be overly 'cloying' but these grapes are picked slightly early, bringing a much needed extra acidity and freshness. The wine, once the fermentation is complete, is also given a short period of ageing in oak barrels to give an extra layer of creaminess and complexity on the palate.

Enrique Mendoza first planted vinyeards around the town of Alfaz del Pi in Spain's Alicante DO. The estate is now run by his children Pepe and Julien. They also grow Chardonnay and some red varieties: Syrah, Cabernet and Merlot.

Pepe Mendoza makes extraordinary and interesting wines in extreme conditions. Alicante is situated in South East Spain on the Mediterranean coast. The climate becomes progressively hotter and the landscape more arid with distance from the coast. The yields rarely exceed 20hl/ha, so the fruit is very concentrated.