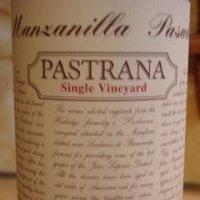 Manzanilla Pasada Pastrana
Original price
£20.80
-
Original price
£20.80
In 1987, Javier Hidalgo of Vini­cola Hidalgo met with his old friend and fellow wine maker of the Oporto region, Cristiano van Zeller. From this encounter sprung the idea of producing a special single vineyard sherry under their names. After ten years of carefully assessing the ageing and development of the different wines originally chosen and of the development of the various markets, it was in 1997 that the concept finally became reality.
The wines selected originate from the Hidalgo family's 'Pastrana' vineyard situated in the Miraflores district near Sanlucar de Barrameda, famous for providing some of the best grapes of the 'Jerez Superior District'. All the Sherries have been aged in old casks of American oak for many years using the traditional 'solera' system within the bodegas of Vini­cola Hidalgo in Sanlucar de Barrameda.
The final selection of the wines considered suitable for the 'Pastrana' label was very rigorous.
The 'Manzanilla Pasada' is an aged Manzanilla with the typical freshness and delicate fragrance of this unique wine but with slightly more body and character than its younger version. Manzanilla can only be made in the town of Sanlucar Barrameda whose special microclimate allows a special yeast (or 'flor') to grow on the surface of the maturing wine all year round, protecting it from the detrimental effects of the air. Elsewhere in the sherry district the flor dies off in the summer and winter to form Fino sherry instead.
Drink Now
Aperitif
Dry
Medium Bodied
Golden Yellow
Palomino
Sanlucar de Barrameda
Bodegas Hidalgo
NV
Contains Sulphites