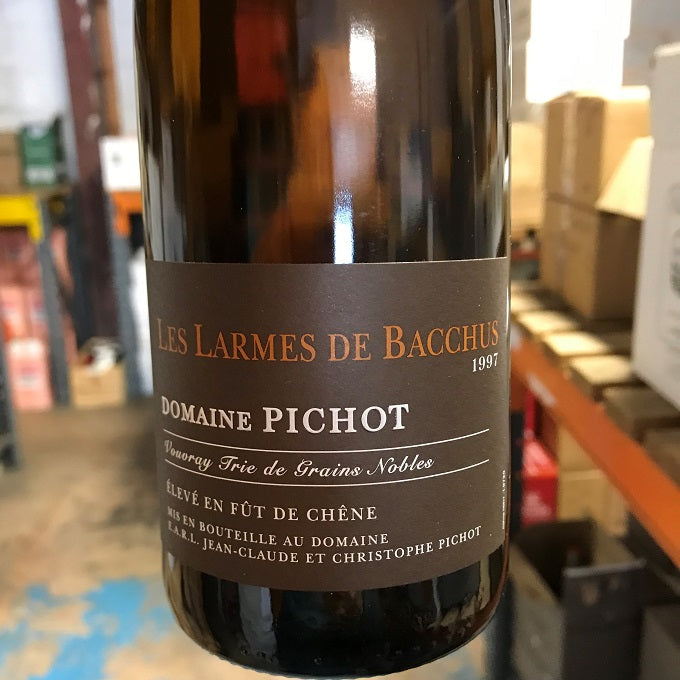 Les Larmes de Bacchus 1997 Vouvray Moelleux, Domaine Pichot
Original price
£63.90
-
Original price
£63.90
Golden colour, a fine and wonderfully complex nose of roasted fig, candied apricot, caramel. On the palate, a hint of acidity counterbalances the residual sugar, fig, caramel, candied fruit, tangerine gives us a gourmet and generous mouth. To drink or keep in the cellar.
Jean-Claude Pichot, and his son, Christophe, have been supplying us with Vouvrays since the early 1980s and our original belief that this is one of the finest estates in the central Loire is now widely accepted. For tax purposes, the domaine has been split up between father and son, with Christophe using the name of Domaine du Coteau de la Biche, although all the wines are the same, appearing on different labels at different times of the year!

The Pichots run of recent vintages has produced a wonderful collection of dry, demi-sec and sweet wines. This is the longest established estate in Vouvray (est. 1739) and their current reputation has been built on their obsessively low yields and rigorous triages during the harvest. Robert Parker recently wrote that these wines represent uncommonly natural expressions of both Chenin Blanc and terroir. These are totally authentic products of great class, character and individuality.