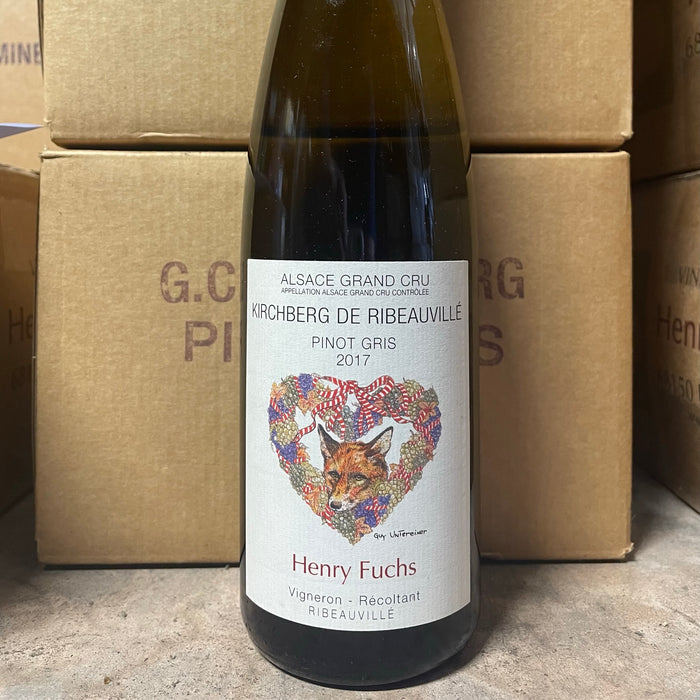 Grand Cru Kirchberg Pinot Gris 2017, Henry Fuchs
Original price
£32.25
-
Original price
£32.25
Intensely honeyed fruit hinting at melons and nectarines. This wine is richly bodied with a fine acidity keeping the wine fresh. The finish is complex and lingering.
To achieve Grand Cru status in Alsace, the wine must come from one of the fifty designated vineyard sites, from one vintage and from only Riesling, Muscat, Gew?¬rztraminer or Pinot Gris. Yields are restricted to 70hl/ha (which still seems a little excessive!) and all wines must go before a tasting panel before being released on the market.
The Kirchberg Grand Cru site (not to be confused with the Grand Cru Kirchberg at Barr in the Bas-Rhin) was created along with the original 25 sites selected in 1983, and covers 11.4 hectares, lying on the steep hillsides to the north of the village of Ribeauvill??, benefiting from an excellent sunshine exposure lying between 270 and 350 metres above sea-level. The clayey-stony soil is particularly suited to the Riesling, Pinot Gris and Gew?¬rztraminer varieties and the overall style is one of great finesse but, with time, becoming more and more full-bodied. The wines require some time in bottle before developing their bouquets and showing their real complexity.
Henry and Catherine Fuchs are in their mid-forties and the third generation of the family to run this splendid 10 hectare domaine situated in the quality heartland of Alsace at Ribeauvill??, a village renowned for its rich and opulent dry white wines.
Established in 1922, the Fuchsƒ?? family estate was one of the first to start bottling their own wines in 1945. Their vineyards are mainly situated in excellent sites throughout the commune of Ribeauvill??, with a further 20% to be found in the neighbouring communes of Hunawihr and Bergheim.
The Fuchs use no weed-killers or man-made fertilisers on their vineyards which goes a long way to restricting yields, but they also prune very ƒ??tightlyƒ?? so that their final ƒ??rendementƒ?? (yield) is at least 20% below the village average. In the winery, Henry avoids the use of pumps, preferring to rely on gravity to move his wine around, thereby reducing its contact with air. Sulphur Dioxide is avoided during the fermentation and is only added in minimal quantities following racking and filtration.
The overall effect of all this are wines of great freshness and character with excellent keeping potential and they are not normally released until they are showing at their best and ready for drinking.