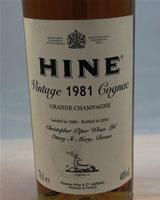 Hine Early Landed Cognac
Original price
£582.49
-
Original price
£582.49
Bottled 2001. This fine vintage will continue to develop in the bottle for many generations to come. It is the epitomy of fine early landed cognac being both powerful yet smooth and haunting on the palate.
The concept behind early Landed Cognacs: At the beginning of the 19th century, a few cognac houses began to ship cognac, soon after it had been put into cask, to British connoisseurs.
Maturing in English cellars - humid and cold - these developed in a way quite different from their Jarnac cousins and were highly prized. One of these companies was Thomas HINE, and his successors continue the practice to this day. Each vintage year, a small parcel of casks is sent to Bristol, England, where they age for at least twenty years. These are known as Early Landed Cognacs.
In 1791 young Thomas Hine left his home in Dorset, England to seek his fortune in France. He chose the Cognac region, perhaps because his family, living on the coast, had engaged in the common practice of smuggling cognac.
This was the time of the Revolution in France, and Thomas was arrested as a spy and imprisoned in the ancient Ch'?teau of Jarnac.
He was soon freed again and married Franƒ?­oise Elisabeth, whose father owned a cognac company in Jarnac. He had married into a business that was to become his career and his obsession. He became a noted connoisseur, respected for his integrity and famous for the demands he made on his suppliers.
Over the years, he raised the art of making cognac to new heights, continuing to develop the business, to which, in 1817, he gave its present name: Thomas Hine and C??.
When he died, in 1822, he left more than a prosperous business. His legacy was a name already known and appreciated around the world for the exceptional quality of its cognacs.
Drink Now
Digestif
Dry
Medium Bodied
Dark Golden
Spirit
Cognac, France
Hine
Early Landed
Contains Sulphites