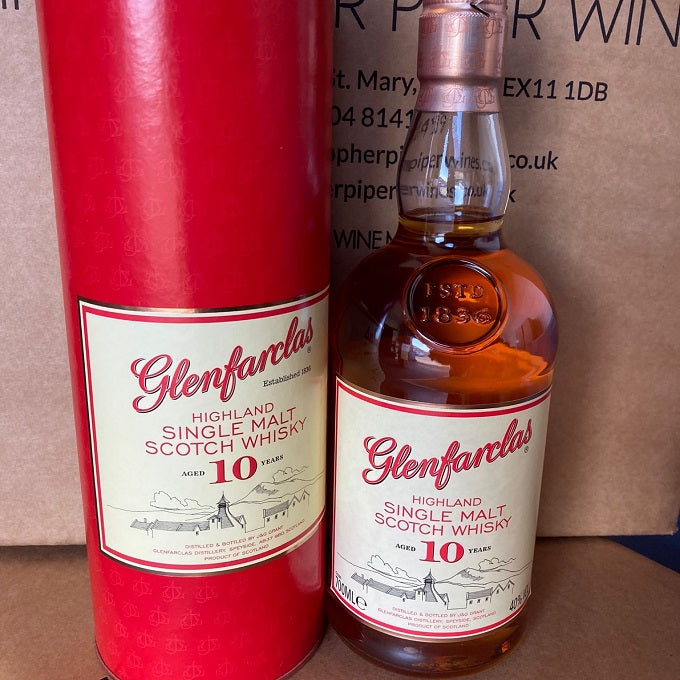 Glenfarclas 10 Year Old
Original price
£46.65
-
Original price
£46.65
Speyside
A straw-gold, delicately light, sweet and malty, leaving a long slightly spicy finish.
The story of Glenfarclas Distillery, established in 1836, is as rich and colourful as the great Glenfarclas Single Highland Malt Scotch Whisky itself. It is the story of one Scottish family, the Grants, who since 1865 have been united by a single vision - the creation of the perfect malt whisky, the ultimate taste of Scotland.
"My great-great grandfather, John Grant, born in 1805 at the family farm of Lynbeg in the heart of Speyside, purchased Glenfarclas Distillery for the princely sum of £511.19s.0d on the 8th of June 1865." John LS Grant
To this day, Glenfarclas Single Highland Malt Scotch Whisky is distilled and matured at the family owned and run distillery, which remains independent. Their multi-award winning Glenfarclas Single Highland Malt Scotch Whisky continues to impress the tasting panels at both national and international competitions, year after year. Confirming the words of a great rival distiller in 1912, of all the whiskies malt is king of all the kings Glenfarclas reigns supreme.
Drink now or Keep
Digestif
Spirit
Full Bodied
Dark Golden
Grain
Speyside, Scotland
Glenfarclas
10 Year Old
N/A