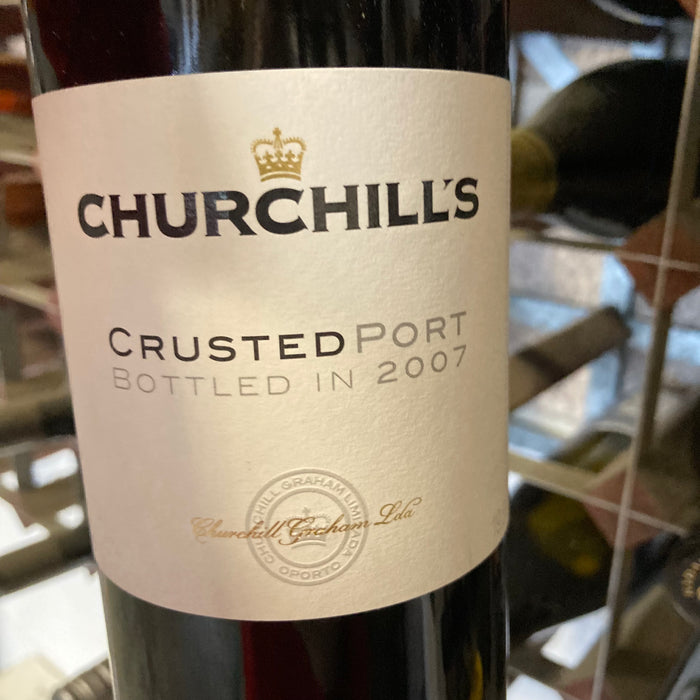 Churchill's Crusted Port (Bottled 2007)
Original price
£0.00
-
Original price
£0.00
Churchill's Crusted Port is even closer in style to Vintage Port than their traditional LBV. It presents a dense, concentrated wine for far less than the price of a Vintage Port. (19.5% ABV - 2007)
Crusted Port is a style of wine that was invented by English wine merchants when port was still being shipped in bulk and blended to their specification. It ceased to exist as soon as bulk shipments were stopped. There followed almost a decade before the Portuguese authorities reinstated Crusted port as a special category.
Churchill's Crusted Port is made up of the very best wines from two or sometimes three different harvests. It is kept in wood for up to two years and then bottled for further maturation. As this blend is not subject to any fining or filtration it continues to develop and mature in bottle. Given sufficient time, it throws a thick sediment, otherwise called a Crust from which it derives its name.

Churchill's Crusted, bottled in 2007 and aged in bottle in their cellars for a minimum of 3 years, is a full bodied port which has acquired the rich mellowness and distinctive nose usually associated with mature Vintage Port. It can be consumed now or laid down for a few more years. The wine is sealed with a driven cork allowing it to breathe and the bottle to be stored lying down.
Care needs to be taken not to disturb the crust. When the bottle is taken from the horizontal position, it is best to leave it standing upright for a period of 24 hours prior to decanting.
In his tasting notes the wine maker, Johnny Graham, writes "This Port Wine has a rich garnet colour with a violet hue. Fresh resinous notes on the aroma. Complex and elegant on the palate, combining cherry flavours with dark chocolate notes in a well balanced finish."
Drink Now or Keep
Digestif
Sweet
Medium Bodied
Deep Purple
Touriga Nacional, Tinta Roriz, Tinto C?œo, Tinta Barroca, Touriga Franca and Tinta Francisca
Portugal
Churchill's Estate
Bottled 2007
Contains Sulphites