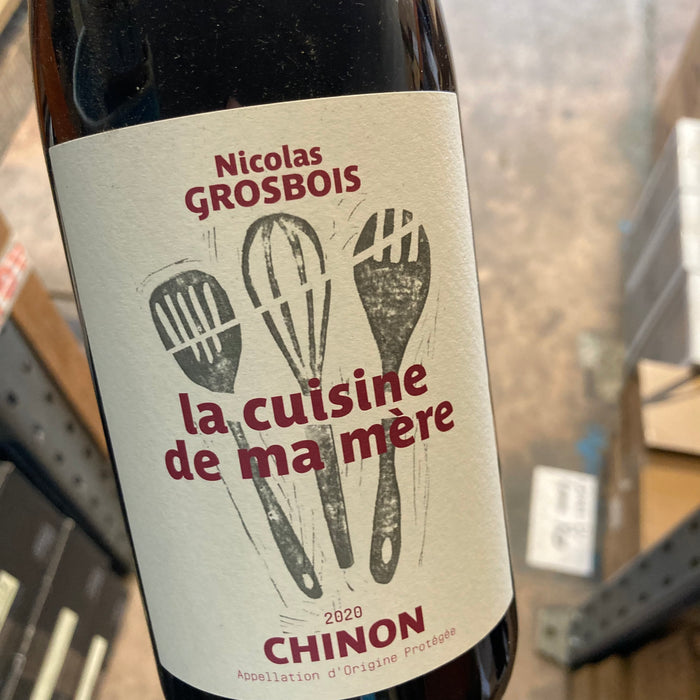 Chinon 2020, La Cuisine de ma Mere, Grosbois
Original price
£20.80
-
Original price
£20.80
Domaine Grosbois, Loire, France - ORGANIC
"Light and approachable with succulent blackcurrant and berry fruit, subtle herbal nuances, wonderful freshness and precision."

Domaine Grosbois is a 9h Domaine run by two brothers, Nicolas and Sylvain. Their family vineyard is located at a place called 'The Pressoir' Panzoult in the Chinon appellation in the heart of the Loire Valley. Nicolas arrived at the family estate in 2008, after spending 10 years as a 'flying winemaker' and having spent time in New Zealand, Australia, Chile and Oregon. After his time abroad, Nicolas strongly believes in not vinifying and ageing in wood, choosing concrete instead to preserve the freshness and vitality. No old oak has been used since 2015. Sylvain similarly spent time abroad in Chile, Oregon working for Domaine Drouhin and Australia. The brothers are passionate about organic viticulture and show their wines at The Raw Wine Fair.

The vinification changes a little every year depending on what the harvest gives you, Nicolas says, like a chef in the kitchen, you must react. The Cuisine de ma mere comes from their young vines from clay and sand and is designed for early drinking. The grapes are destemmed and undergo a 5-day skin maceration, fermented in concrete and then aged in concrete.
Pork sausages, salami
Dry
Light Bodied
Dark Berry
Cabernet Franc
Loire Valley, France
Domaine Grosbois
2020
Contains Sulphites