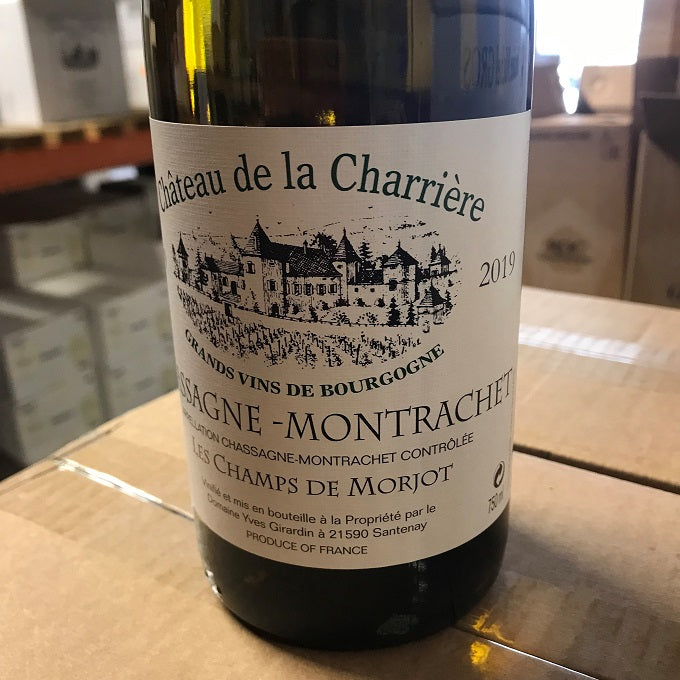 Chassagne Montrachet Blanc 2020, Yves Girardin
Original price
£40.70
-
Original price
£40.70
Chateau de la Charriere, Domaine Yves Girardin, Santenay

Made from 100 % Chardonnay grown on limestone and clay with the average age of the vines being 25 years old, all the parcels are ploughed in the spring to encourage the vines root development and thus bring out the expression of the terroir. Work such as debudding, trellising and leaf thinning, which is all carried out by hand, allows control of the yields and to create space for ventilation around the bunches of grapes in order to prevent disease and obtain perfectly healthy grapes. The vines are managed using "lutte raisonne", where careful observation of the vine's growth and control of its development results in the use of any treatment products being kept to a minimum.

The grapes are harvested by hand with a triage (selection of the best grapes and rejection of sub-standard ones) taking place both in the vineyard and also the winery. The grapes are directly pressed in a pneumatic press, and the resultant juice is chilled and allowed to decant in the vat for between 24 and 36 hours.

Alcoholic fermentation can then begin in the vat and is completed in French oak barrels, of which some 25% are first fill new oak, for 10-12 months. This is followed by malolactic fermentation (which naturally reduces acid levels in the wine), accompanied by occasional stirring of the lees which adds richness and complexity to the wines. The wines are racked and blended in vats 2 to 3 months before bottling and are fined and filtered. Bottling takes place during a waning phase of the moon when it is felt that it is the optimum time for wines that will benefit from some bottle ageing before consumption. The wines will keep for some 2 to 4 years after bottling as the flavours develop.

Tasting Notes:-
A concentration of citrus aromas and white stone fruit intermingled with toasted notes. Rich and full in the mouth with great persistence of flavour and a long finish.
The wine is best served at a temperature of 12degC or 13degC

The Girardin family have cultivated vines for 13 generations, and the domaine developed in the sixties thanks to Jean Girardin, notably with the acquisition of Chateau de la Charriere. Having spent his childhood amongst the vines and in the cellar, Yves developed a passion for all aspects of wine and its culture.
In 1981 the family holding of 12 hectares was split up, and Yves found himself in charge of 3 hectares. Wishing to grow and diversify his range of appellations, he bought vines in Chassagne-Montrachet and Pommard and today holds 21.50 hectares.

In 2003 Yves acquired Chateau de la Charriere, the family property, and developed the Domaine with the construction of a new cellar. In 2011 Benoit returned to the Domaine after studying at Beaune and Bordeaux in order to perpetuate the family skills.