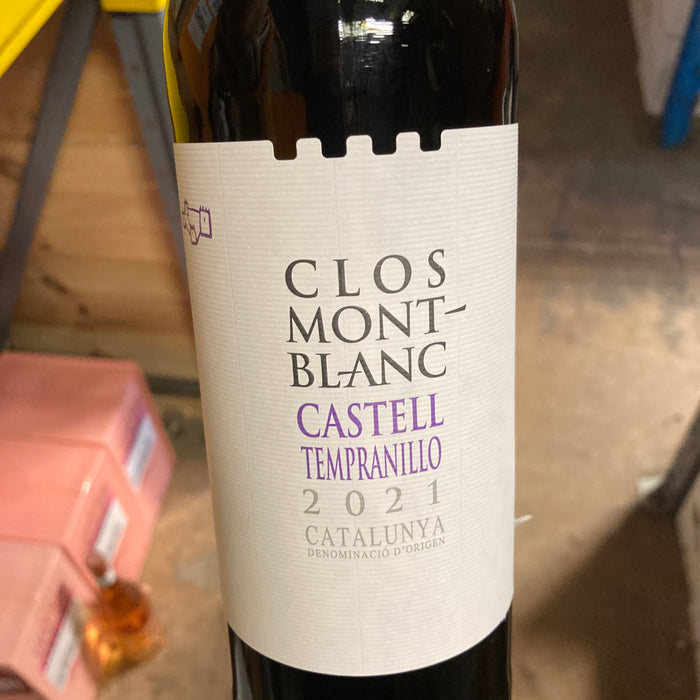 Castell Tempranillo 2021, Clos Montblanc
Original price
£10.70
-
Original price
£10.70
A superbly made bold red with warm fruit and spice flavours. 
Fresh, juicy and unoaked 100% Tempranillo (the grape that brings us red Rioja) from an estate tucked away in Historic Montblanc just the other side of Barcelona.
Conca de Barbera is nestled away in the Catalan hinterland, approximately 50 miles South-West of the lovely city of Barcelona. The countryside in this area becomes starkly barren and, once you move this far inland, precious little vegetation grows apart from rows of vines and infrequent small 'orchards' of almond trees. This is ideal terrain for growing intensely flavoured and well structured grapes. The winery is quite new and has been extensively equipped with the very latest in technology, including a state of the art bottling line, fully temperature controlled fermentation equipment and an enviable quality control/analysis laboratory.
Tempranillo flourishes in these arid, difficult conditions and the only vegetation in the immediate area surrounding Castillo itself are Tempranillo vines! The wine displays classic Tempranillo character with flavours of tobacco, spice and a hint of leather on the palate. The wine is unoaked, in contrast to most Rioja Tempranillo, to allow the ripe, warm fruit to shine through and give the succulent fruit an opportunity to match a wider range of foods.
 2021
 13.5% Abv
  Tempranillo
 Contains Sulphites