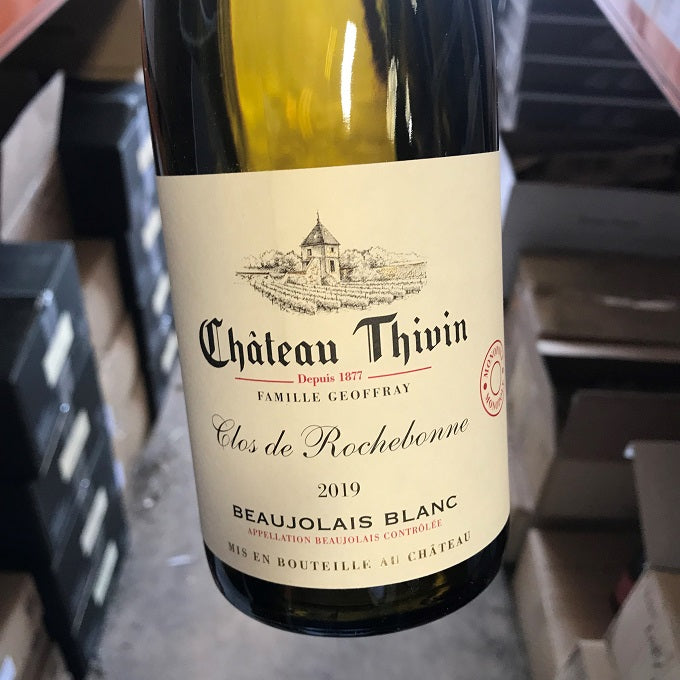 Beaujolais Blanc Clos Rochebonne 2022 Chateau Thivin
Original price
£22.99
-
Original price
£22.99
"White Beaujolais is a rarity, only 1% of wines made are white. They are only made where the soils are perfectly suited and in the case of Rochebonne they are not only ideal, they are celestially beautiful. This Chardonnay is fermented and aged over fine lees for 8 months in older oak barrels. The trick here is to impart the faintest touch of oak while retaining the aromatic purity of the grapes. If you think that you are a long way south in Beaujolais and only slightly north of the Rhone and its heady Viognier, Marsanne and Roussanne varieties, this will inform you as to what to expect in this wine.
Chateau Thivin has to be one of the most iconic estates of the Beaujolais. Dating back to the 14th century, this modest but utterly beautiful chateau exudes history. The original 2 hectares, purchased by Zaccharie Geoffray in 1877, have grown to 24 hectares today, still owned by the Geoffray family. Claude-Edouard, and his wife, Sonja, (both in their mid-thirties) are now in charge of the day-to-day running of the estate and wine-making. Determined to work as ecologically as possible, they have recently embarked on a programme of organic conversion. The property is situated on the hillside of the Cote de Brouilly, with predominantly south-facing vineyards.
Known for its first class Cote de Brouilly, a little-known secret is Chateau Thivin's exceptional white wines, made from the Chardonnay grape. The Beaujolais-Villages Blanc, Cuvee Marguerite, comes from grapes grown on a vein of clay-limestone, on east-facing slopes of the Cote de Brouilly. The wine is 50/50 barrel and tank fermented and has a wonderful freshness and balance with a white blossom nose and a rounded, intense peachy fruitiness. About ten years ago, the Geoffrays acquired a unique Beaujolais Blanc vineyard, the 16th century Clos de Rochebonne, situated in the Pierres Dorees village of Theize in the south of the region, with its clay and chalk soil being ideally suited for growing Chardonnay. This is a very different wine to the Cuvee Marguerite, as it completely fermented in oak, with barrels anything between one and ten years old and then it sees a further six months in oak. The wine tends to be a bit racier and more zesty than its counterpart, with lovely purity and complexity.
Drink Now
Trout, Freshwater Fish
Dry
Light Bodied
Pale yellow
Chardonnay
Beaujolais, France
Chateau Thivin
2022
Contains Sulphites