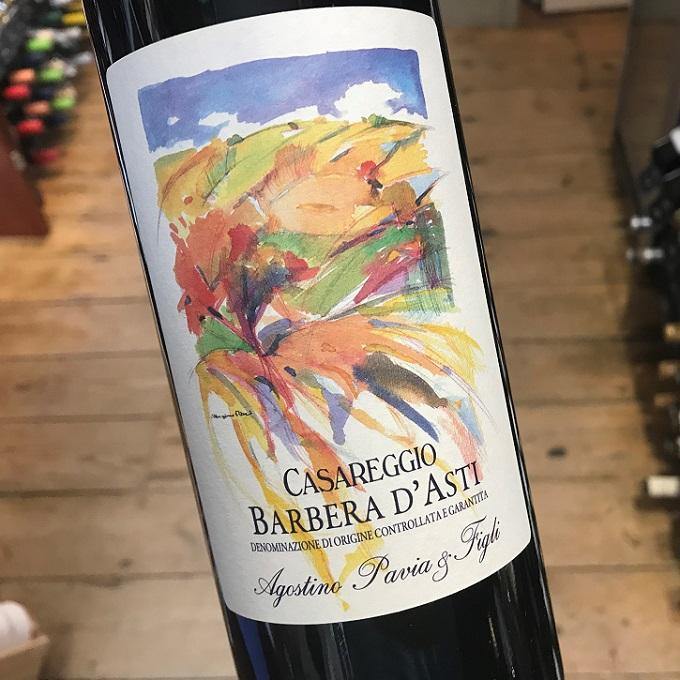 Barbera d'Asti 'Casareggio' 2021 Agosto Pavia
Original price
£15.40
-
Original price
£15.40
Agostino Pavia and Figli, Agliano Terme, Piedmont, Italy
Tasted here 23/04: Fantastic value for money! It has the rich, generous texture on the palate that good Barbera offers. The nose is sour cherry, lavender and leather but, on the palate, it has flavours of 'smokey' cassis, strawberry, mocha and vanilla. It has that classic Italian balance of acidity and fruit that makes it very food friendly.
From a small, family owned/run winery in the beautiful rolling hills of Algliano Terme, situated in Asti, North-West Italy (at the centre of a triangle between Genoa on the coast and the cities of Milan and Turin). The vineyards are on quite steep hillsides, looking South, and the vineyards look stunning. The wine is 100% Barbera (see below) and has been aged in large oak barrels for just four months. This gives it an layer of 'creaminess' without damaging the fruit.
Barbera grape is one of Italy's native grapes rarely found outside its natural home in the northwest. After many years of being relatively neglected while the market paid silly money for Barolo and Barbaresco, the joys of the simpler and much better value Barbera is being rediscovered. They're not comparable in terms of quality but they are heaps of fun...you can't eat fillet steak every day and sometimes a cheddar and home made pickle sandwich really puts a smile on your face!
Barbera is super-food friendly as it tastes full flavoured but is only medium bodied, allied to low tannins and a high acidity. This makes it a natural match for 'fatty' or high tannin meals that a lot of other wines struggle with.
Drink Now
Red meat, game, aged cheese
Dry
Medium Bodied
Dark Berry
Barbera d'Asti
Piedmont, Italy
Agosto Pavia
2021
Contains Sulphites