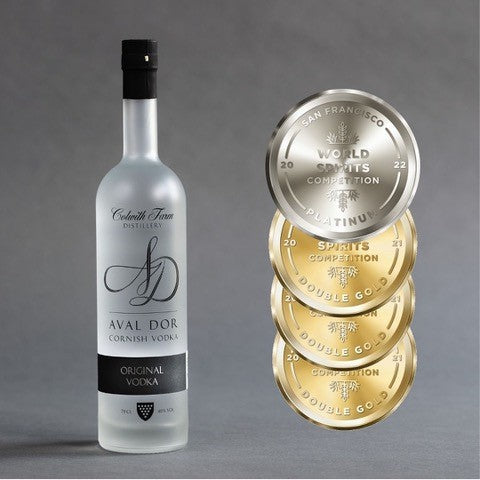 Aval Dor Vodka, Colwith Farm, Cornwall, 40% Abv
Original price
£37.10
-
Original price
£37.10
Tamlyn Currin (Jancis Robinson.com) has recently (December 2022) written the following about Aval Dor:
"Earlier this year, Colwith Farm Distillery sent me samples of their superb (and rare) field-to-bottle Aval Dor gin and vodka. Fifth-generation farmers and brothers Steve and Chris Dustow distil gin and vodka entirely from potatoes grown on their Cornwall farm, five miles from the coast in the southern-most part of England. I tasted the 'Original' vodka and gin, and the quality and purity of their spirits is spinetingling."
The delicious Cornish Aval Dor vodka has won the prestigious platinum medal in the 2022 San Francisco World Spirits Competition – the first British vodka ever to have achieved such success!
(A platinum medal is only ever awarded to spirits that have received a Double Gold for three consecutive years).
Aval Dor, which takes its name from the Cornish translation of potato, is produced from the finest King Edward potatoes, grown on the cliff tops at Colwith Farm. This vodka has to be tasted to be believed. It is so aromatic with so many complex botanicals in its aroma and flavour if you closed your eyes you might think you were drinking a fine cognac.
Steve Dustow is one of the good guys, a fifth generation member of a Cornish family of potato farmers, who are based at Colwith Farm, situated at Treesmill, near Par in South Cornwall. Steve is an Exeter University graduate, who went on to become a project manager for one of the West Country's leading construction companies. However, disillusioned with what he saw in the industry, Steve decided to return to the family farm and diversify into the production of potato vodka. When we recently tasted this amazing spirit, we were extraordinarily impressed by its intensity, floral and spice-driven aromatics and silky viscosity. Even when blind tasted against leading specialist English potato vodkas, this hand-crafted elixir stood out head and shoulders above them.
This is very much a small-batch, artisan, high quality vodka, distilled in a tiny 200-litre copper batch still and blended with mineral water lifted from an aquifer deep beneath the farm, to create this smooth and creamy vodka. The secret of Aval Dor's intensity and richness is the fact that it is only single-distilled, resulting in only the heart (the best part of the potatoes) being used. A lot of distillers will tell you that the more times you distill the spirit, the better it is. That really is a lot of nonsense, because it is only when the raw materials are poor that a vodka needs to be distilled many times!
Drink Now

Aperitif or Digestif
Dry
Spirit
Clear
Potatoes
Cornwall
Aval Dor
NV
N/A