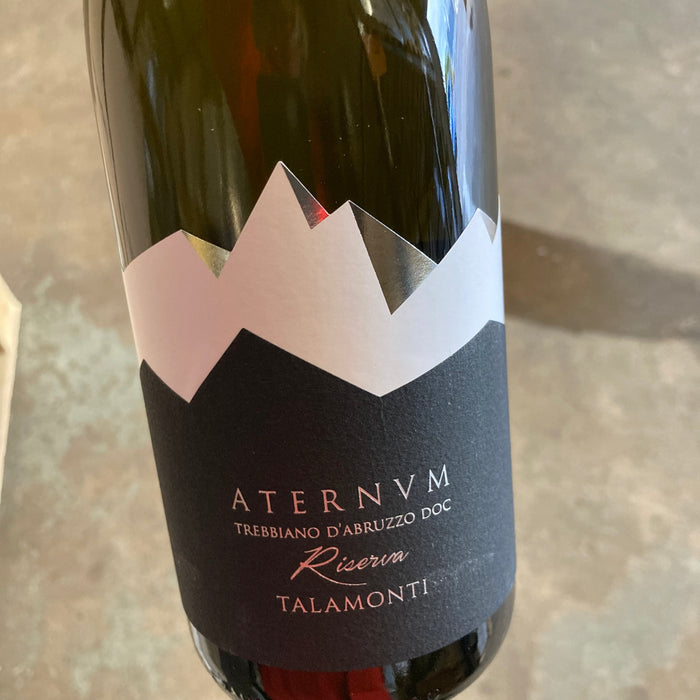 'Aternum' Trebbiano d'Abruzzo Riserva 2019 Talamonti
Original price
£15.65
-
Original price
£15.65
Italian White Wine
Talamonti Estate, Loreto Aprutino, Abruzzi, Italy
Aternum is a product of craftmanship which is applied to one of the outstanding white grape varieties of the area, Trebbiano d'Abruzzo. Only made in good years when the grapes are at their best, they are carefully selected and harvested by hand in September from the vineyards belonging to the Redmont - Di Tonno family. The wine is aged on its lees in 3400 litre barrels of French oak for 7 months with frequent "batonnages" (i.e. stirring) which results in its fine body and also elegance. It is a big wine with good structure, greenish yellow in colour, intensely perfumed and mouth filling with a light hint of spiciness on the finish. It is best drunk young but will keep for up to ten years.
Talamonti was founded in 2001 by the Di Tonno family, in a magnificent, unspoiled part of the Abruzzi. Their ethos lies in constantly seeking the most harmonious blend between the fruit in their vineyards, the sun-exposure, the training method, and the desired yield, with the overriding objective to obtain the best expression of their unique terroir for each varietal.
By the turn of the century Talamonti vineyards had grown to 32 hectares under cultivation in the municipality of Loreto Aprutino. In addition to the native Montepulciano d'Abruzzo and Trebbiano d'Abruzzo, other varietals have been planted. Pecorino, for example was planted in 2004 as part of an estate experiment to study the ability of other varieties to adapt and express themselves. The vineyards surround the winery and are located at 300 meters above sea level and are on south-east facing slopes in the Tavo Valley region.
The cellars are filled with a large quantity of prime oak barrels selected for their variety in origin, grain, seasoning and with different degrees of toast. Following an extensive study on the ageing of Montepulciano d'Abruzzo wine in wooden casks, Talamonti has chosen to utilize different 300 and 3400 litre oak barrels from Austria, France, USA, and Eastern Europe.
The vinification area hosts select state-of-the art fermentation vats of different sizes in order to vinify separately the different parcels of the vineyards.
Drink Now
Fish, Chicken, Creamy Pasta
Dry
Light Bodied
Pale yellow
 Trebbiano d'Abruzzo
Marche, Italy
Talamonti Estate
2019
Contains Sulphites