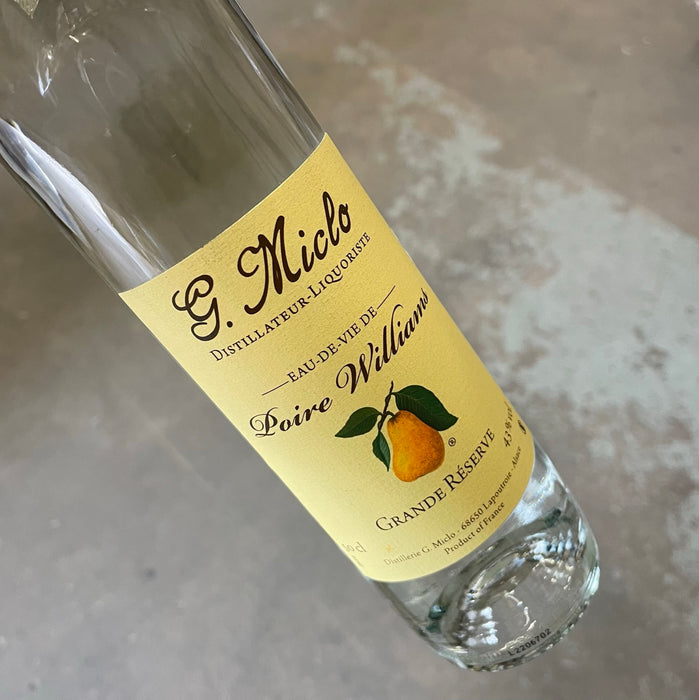 Poire William Grande Reserve 50cl Miclo
Original price
£49.55
-
Original price
£49.55
A very intense aroma of ripe pear that shows a touch of honey and a tiny whiff of menthol. Unctuously rich and well-developed showing subtle fresh fruity flavour, with good intensity and depth of pear extract. Long, with just a little heat to remind of the spirit.

Gilbert Miclo founded the Miclo Distillery in 1965 in Alsace. He had succeeded his father as head of the family company in 1962, but in those days they were only traders of wine, eaux de vie and beers. The decision was taken to produce their own fruit brandies, and to concentrate on only products of the very finest quality.

The company immediately became well-known and by 1972 Miclo had 50 agents selling its products throughout France. Miclo also caught the attention of master patissiers who wanted the purest fruit brandy for flavouring their fine pastries and desserts; this in turn lead to the 1974 establishment of a specialist culinary range.

In 1977, a new distillery was built housing four stills and 36 new Inox stainless-steel tanks for macerating the fruit and ageing the brandies. In 1982 Gilbert Miclo opened a distillery in Moorea (French Polynesia) to produce exotic fruit brandies and liqueurs.