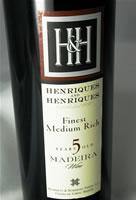 50cl H&H Finest 5 Year Old Medium Rich Madeira
Original price
£16.20
-
Original price
£16.20
Bual is the English name for the Portugese Boal. It produces a medium-sweet style of Madeira that is an excellent introduction to the style of Madeira wines. This Bual is fruity and fragrant.
The Henriques family were making wine in Madeira in the 15th Century, but it was not until 1850 that Joaquim Henriques established the firm of Henriques and Henriques with his brother. Today it is the largest and most respected independent Madeira 'house', with the lion's share of the grapes coming from vineyards owned by the Henriques family surrounding Camara de Lobos, considered by many to be the best quality vine growing area on the Island.
In order to reinforce their position as the leading producer of quality wine, Henriques have planted 60 hectares of new vines on precarious terraces overlooking their winery at Camara de Lobos, terraces which are hardly viable to work, in terms of pure economics, but which will, in time, produce some terrific quality grapes. The winery itself is brand new, equipped with the most up-to-date stainless steel vats and pneumatic presses. Their Madeiras are outstanding.
Drink Now
Aperitif
Medium Rich
Medium Bodied
Madeira
Malvasia Candida
Madeira
Henriques & Henriques
5 Year Old
Contains Sulphites