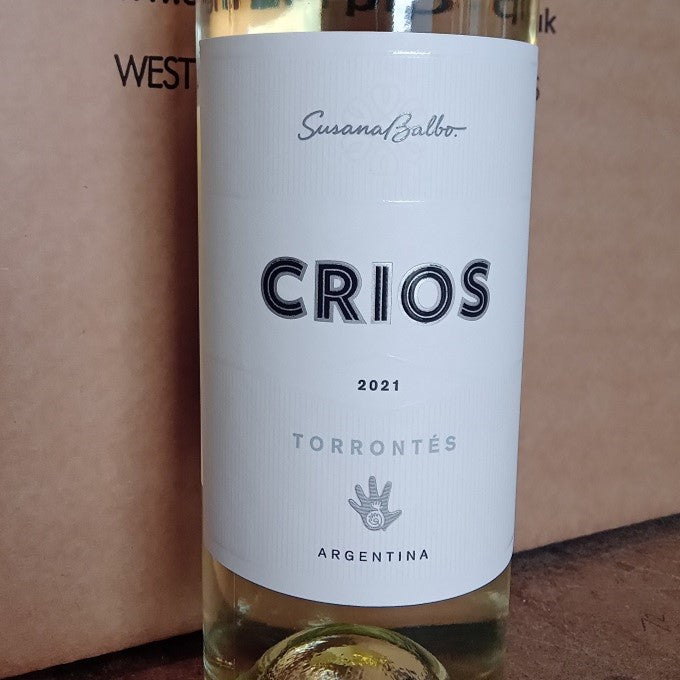 Torrontes Crios 2021 Susana Balbo
Original price
£14.45
-
Original price
£14.45
Susana Balbo Cafayate, Salta and Uco Valley, Mendoza, Argentina
The balance of Salta (warm, full flavoured) with Uco Valley (cooler, better acidity) grapes is a perfect combo. Uber-fresh (not slightly 'soapy' like so much cheap Torrontes can be) with mouth-tingling flavours of elderflower, lemon zest, lime and a touch of salty peach.
Crios means offspring (as in children). Susana selected a word to express the notion that these are wines that haven't quite grown up to the same level of quality and maturity as her more expensive Susana Balbo signature label wines, but they receive the same loving care and attention throughout the winemaking process. Crios wines are meant to be consumed while still young and vibrant and have great fruit expression.
Susana Balbo and her viticulturist partner, Pedro Marchevsky, have combined their respective skills and experience at Dominio del Plata where they are totally in charge, concentrating on planting, varietal selection, water management and canopy conduction. The project was specially designed so that the vineyards do not harm the natural resources and, at the same time, preserves the environment.
We have been keen supporters of Susanas excellent Anubis Malbec for many years and we have just added a tremendous lime-fresh Torrontes, sourced from their vineyards in the Cafayete Valley. Quite simply, it's one of the best white we've tasted from Argentina.
We are never shy about our firm belief that this is, quite simply, the best Torrontes in Argentina; or at least the best unoaked example.
It has all the floral subtlety and delicate exotic nuance that this grape is so cherished for but, unlike a lot of other examples, many from Salta Province in the far north, this one is more subtly nuanced than in your face! Also, unlike many others, this one is really lean and lively on the palate, ultra zesty and fresh. In fact, texture wise, it feels more like a very good Sauvignon Blanc, such is the acid balance and structure in relation to the lovely ripeness of fruit. Stunning.
"Susana Balbo's ever-reliable Torrontes is sourced from Cafayate and the Uco Valley and is a lovely expression of the grape. Aromatic, grapey and fresh, with notes of pear and stone fruit and a fresh, sappy finish. A really good introduction to Argentina's near native white grape."
 2021
 14.5% Abv
  Torrontes
 Contains Sulphites