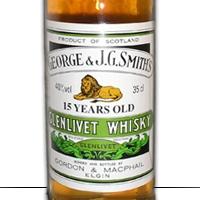 Smith's Glenlivet 15 Year Old French Oak Reserve
Original price
£71.40
-
Original price
£71.40
Speyside
Sherry is immediately apparent, but not strong enough to mask the delicate spice, malt and floral notes. With water it becomes sweeter with vanilla and baking tones. Smooth, clean and wonderfully balanced with sherry, honey, spice and light fruit.
The family of George Smith was producing whisky in the valley of the Livet for ages. When the Excise Act came about, George was one of the first to get a licence which did not make him very popular with the old boys boiling up their moonshine in their back yards. He was threatened with a servere beating which did not please his landlord the Duke of Gordon who was responsible for the Licencing Act so he gave George a couple of shotguns for protection and these can still be seen in the visitor centre.
By the 1880's The Glenlivet had become very popular and George's son, James had to go to court in order to protect the name (other distilleries have been allowed to use the name ever since but must append their own name to that of Glenlivet. Only the Smiths can call their product Glenlivet by itself).
Besides the marketing as single malt, the whisky is used form premium blends like Chivas Regal and Royal Salute.
Drink Now
Digestif
Dry
Spirit
Golden Bronze
Grain
Speyside
George Smith
15 Year Old
N/A