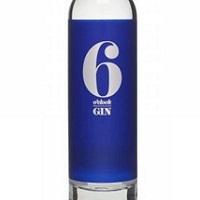 Six O'Clock Gin
Original price
£31.70
-
Original price
£31.70
Combine precisely balanced Six O'clock Gin with tonic to create your own moment of "ginspiration".
Balance, poise and precision; three imperatives in the mind of engineer and inventor Edward Kain. With meticulous attention to detail he created mechanical works of art, documented in blueprints that are still treasured today.
A blueprint for gin deserves the same balance, poise and precision, which Edward's great grandson, Michael, uses to make Six O'Clock Gin. Inspired by his forefather, Michael carefully selects and precisely balances Juniper with six other botanicals to chime together as sweetly as any timepiece. Orange Peel adds a citrus in delightful harmony with floral Elderflower. The result is a clean, smooth and richly flavoured gin.
Edward was known for restraint in gin consumption and looked forward to 6'O Clock, his time for 'ginspiration'.
Best in Class 2011, Gold Medal, IWSC Challenge
Tasting Notes from the IWSC judges:
"Delightful variation on a theme. The traditional characters are there but some fresh citrus and lovely notes of elderflower. Amazingly powerful in the mouth with great depth of flavour. Super and full floral backing. Fresh yet soothing. Full flavoured but beautifully balanced. Long and full flavoured finish where the floral notes are strongly evident."
Drink Now
Aperitif
Dry
Spirit
Clear
Spirit & Botanicals, Orange, Elderflower
UK
Bramley & Gage
NV
N/A