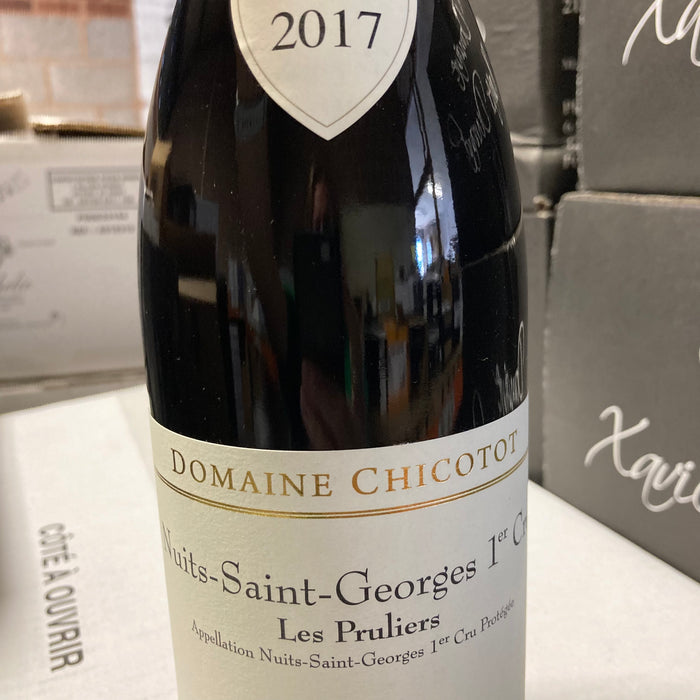 Nuits St Georges 1er Cru Pruliers 2017, Chicotot
Original price
£75.30
-
Original price
£75.30
Les Pruliers reveals very fruity notes combining prunes, red fruits (with blackberries and cherries often dominant), through to floral, smoky notes. This is a wine whose superb structure, powerful and sometimes a bit austere, makes it a good candidate for cellaring.
It is a perfect accompaniment for traditional wine-based dishes, such as eggs Meurette, beef bourguignon and coq au vin. It also goes well with fruity cheeses such as comt??, but not with ripened or very fatty cheeses.
This estate was a very exciting find for us in early 2005 after tasting much that was thin and over-produced in the region. The husband and wife team of Georges and Pascale Chicotot is a very endearing combination. Pascale, who evidently wears the trousers, together with her husband Georges , who creates the impression of being more down trodden than he actually is, produce Nuits wines that are rich and polished with good structures yet without losing the inherent velvety, raspberry and wild strawberry fruit that makes great Burgundy so alluring.

Both husband and wife vie with each other to see who can make the better wine. Actually it seems they both succeed!