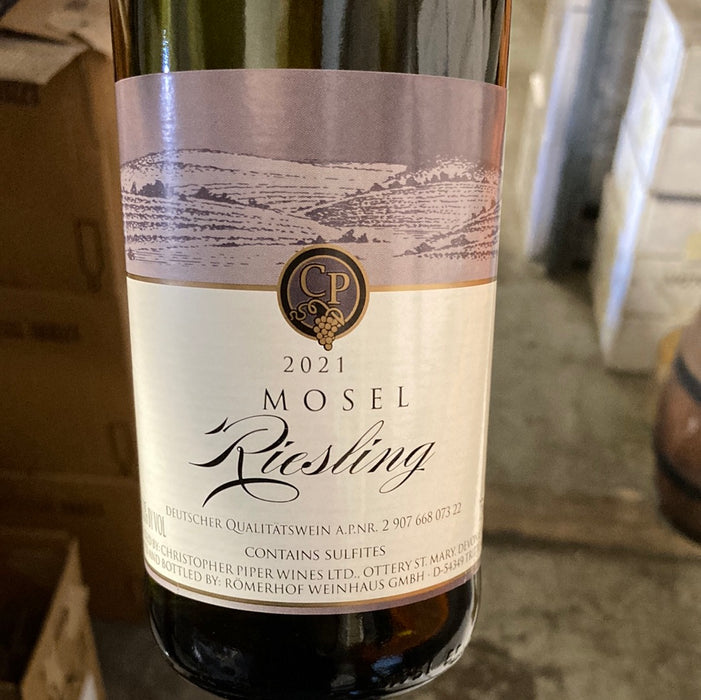 Mosel Riesling 2021
Original price
£9.20
-
Original price
£9.20
Rounded medium limefresh grapey flavours with a hint of honey, a mineral undertone and delicately balanced acidity. 
This is a 100% Riesling from the Middle Mosel, where the steep banked slopes and the convoluted, looping course of the river ensure that the vineyards get lots of sun and the soil retains the heat, thereby helping the grapes to fully ripen. The fruit acquires a mineral tang from the soil in this area, which adds an extra layer of flavour to the wine.
The Riesling grape has almost single-handedly rescued the general reputation of German wines, following the 'fall from grace' in the 1980's. Riesling is now considered one of the finest wine grapes in the world and capable of maturing into wines with unique sensuous flavours. In fact, these wines have much greater complexity and nuances than anything that Chardonnay, for example, can offer and it was only 25 years ago that the top Mosel wines were achieving auction prices that the prestigious white Burgundies could not begin to reach - how times change. However, the export of inferior wines damaged the perception of German wine so badly that sales plummeted. It is a little unfair to castigate the Germans for originally sending us these wines, as we were more than happy to buy them in huge amounts at that time, but with hindsight they did score an 'own goal'.

The problem was exacerbated by large volumes of wine pouring into the UK from Eastern Europe, which was labelled Riesling but was usually a pot pourri of low grade grapes, which the wineries then blended in order to hit the relevant 'price points' on retail shelves, regardless of quality.
The Riesling grape has a piercing grapefruit and citrus acidity when young, allied to a natural concentration of multi-layered flavours of slate, honey and lime. The grape has a depth of fruit, which leaves a lingering presence on the palate even though the alcohol level is unusually low, especially by New World standards. It is this wonderful balance of fruit, acidity, sugar and the lower levels of alcohol which allow all the expressive flavours to shine through.
Drink Now
Aperitif
Medium
Light Bodied
Pale Gold
Mosel
Mosel, Germany
Romerhof Weinkellerei
2021
Contains Sulphites