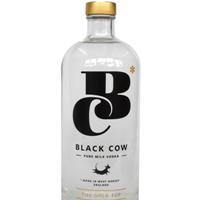 Black Cow Pure Milk Vodka - 40% Abv
Original price
£32.70
-
Original price
£32.70
Made in Dorset this unusual vodka is the world's first pure milk vodka, made entirely from the milk of grass grazed cows and nothing else. Fresh whole milk makes an exceptionally smooth vodka with a unique creamy character.
Black Cow Vodka is the invention of West Dorset dairy farmer Jason Barber. His inspiration came from a desire to diversify the produce from his 250 strong dairy herd and his deep personal interest in vodka. Jason had learnt about the Tuva, a nomadic Siberian tribe, who for many centuries have been distilling Araka, a vodka made from fermented mare's milk. This obscure vodka, highly revered amongst Russian connoisseurs, caught Jason's imagination, prompting him to set himself the challenge of producing a vodka using the milk from his own herd.
The milk is separated into curds and whey. The curds are used to make cheese, the whey is fermented into a beer using a special yeast that converts the milk sugar into alcohol. This milk beer is then distilled and treated to a secret blending process. The vodka is then triple filtered and finished, before being hand bottled. There are around 300 bottles every batch.
Drink Now
Aperitif or Digestif
Dry
Spirit
Clear
Milk
Dorset
Black Cow
NV
N/A