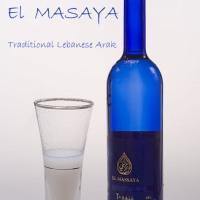 50cl Arak, Massaya, Lebanon
Original price
£41.65
-
Original price
£41.65
EL Massaya means the dusk and in the Bekaa, the sky at dusk is the same dark blue that is found on these traditional Lebanese arak bottles. El Massaya may stand alone as on aperitif or accompany meals. In order to appreciate it fully, fill one third of the glass with this superior arak and top off two thirds of fresh water and then add several ice cubes.
Massaya select white juice-filled Obeidi grapes, the product of local indigenous vines and ideal for the making of arak.
The grapes are hand-harvested in September, mechanically removed from their stems and gently crushed by the press to obtain the best Obeidi juice. The better the wine, the better the arak. Fermentation takes about 15 days, combining 21st century technology with traditional methods and the Obeidi juice is thus transformed into wine.
After a period of rest, the white wine is put into traditional Moorish lid copper stills for the distillation. The heat for the slow distillation process is provided by gentle vine wood embers and the alcoholic vapours migrate through the copper pipe of the still, through a cooling device. Then, the alcohol from the wine condenses and drips into a vat.
The first distillation - eight hours creates the alcohol, the second - eight hours removes impurities and leaves the "heart" of the alcohol or "coeur de chauffe", while the third - twentyfour hours gives the arak its purity and distinction. The third distillatiois combined with the maceration of the very best green organic aniseed from the village of Hineh on the Syrian slopes of Mount Hermon.
The arak is then put into traditional clay amphorae specially commissioned from the potters of the Mount Lebanon village of Beit Chebab. These are just porous enough to absorb some of the liquid and allow it to breathe. During this crucial resting period that lasts many months, a portion of the alcohol, "la part des anges" or "the angel's share", evaporates and the clay lends a faint golden clarity to the matured arak that will bear the name of "El Massaya Arak".
After the triple distillation and ageing this traditional Arak from Lebanon is bottled in the Lebanon's traditional blue bottles.
The mezze is usually a combination of flavors difficult to pair with wines. Therefore, we recommend El Massaya arak with the traditional Lebanese mezze. Indeed, the aniseed taste refreshes the palate and makes every bite a great experience.
Drink Now
Aperitif or Digestif
Dry
Full Bodied
Spirit
Obeidi
Bekaa Valley, Lebanon
Massaya
NV
N/A