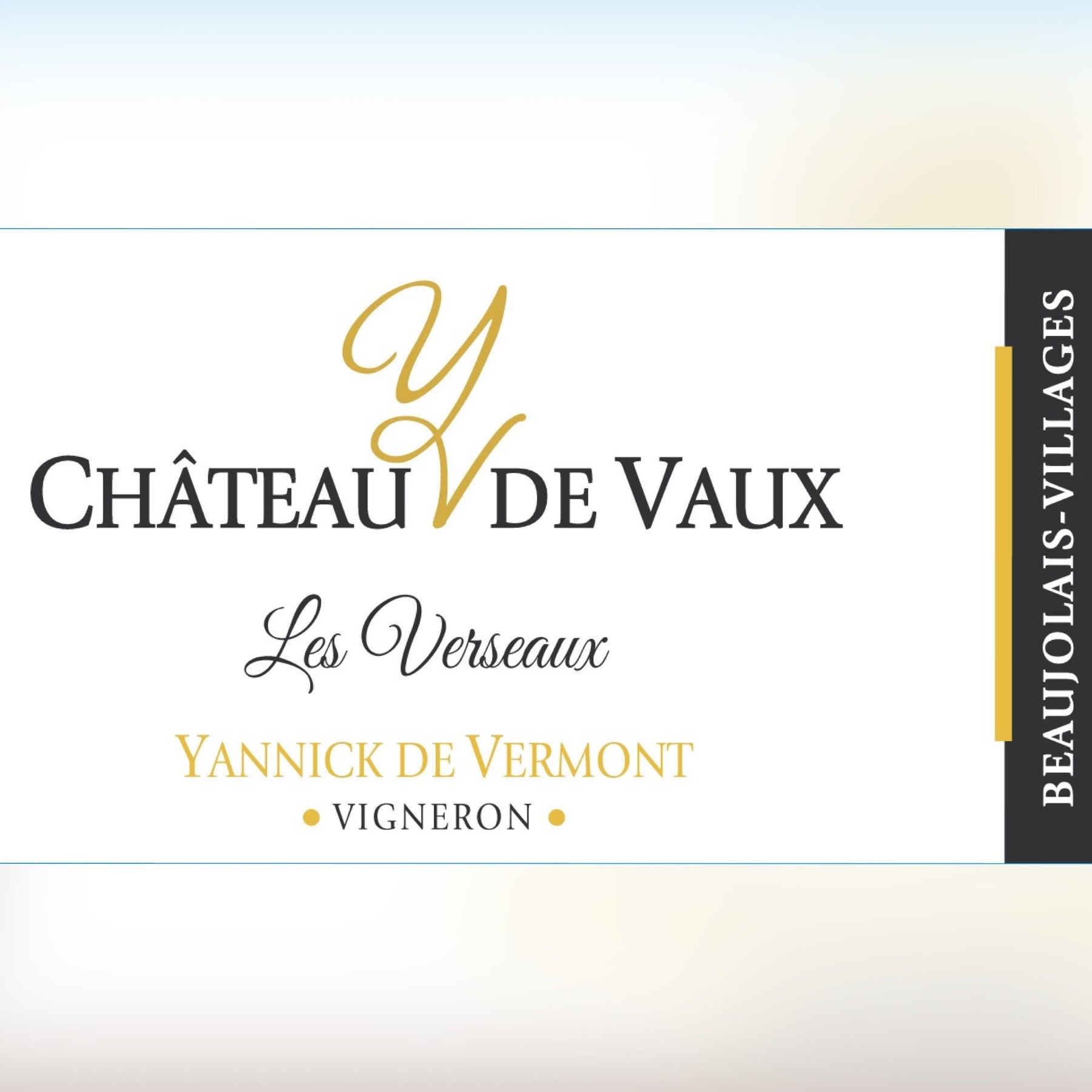 Chateau de Vaux; Wines from the Heart of Beaujolais
CHATEAU DE VAUX, CLOCHEMERLE; THE DE VERMONT FAMILY
This 13-hecatre family-owned and run domaine is situated in the heart of the historic village of Vaux-en-Beaujolais. Vaux is also known as Clochemerle, thanks to the eponymous novel written by Gabriel Chevalier in the 1930's, which
was entirely based in and around the village of Vaux. As you wind up the steep road from le Perréon, down in the valley below, the cluster of stone-built houses, reflecting the warm, bright sunshine, welcome you into the delightfully unspoilt world of La France Profonde. Everyone knows everyone and there is fierce rivalry with the people of le Perréon in the valley below.

The de Vermont family have been part of this world for five generations and Yannick de Vermont's great grandfather, Louis de Vermont, began cultivation of the seventeen century château's vines in the 1920's. Louis was one of the first growers in the region to bottle his own wines and this dynamism was continued by his son Roger and more recently, Yannick's father, Jacques. Today, the domaine is run by Yannick, who in his late forties, is gaining a much deserved international reputation for his wonderfully rich, deep-flavoured and beautifully poised wines. Vaux is one of the higher altitude communes in the Beaujolais (360 metres) and this ensures that the wines have an added degree of freshness, so important in the world of climate change and rising temperatures.
YANNICK DE VERMONT and CHRIS PIPER
Yannick de Vermont's collaboration with Chris Piper started back in 2009 when Yannick joined the team at Château de Grandmont as vineyard manager. For the next five years, they worked together on converting the estate's vineyards to eco-friendly production and finally achieving organic certification. Yannick come from a post as cellar master at the Hospices de Beaujeu and also a begun a close involvement in his family's property, Château de Vaux.

In 2014, Yannick decided to return to his family roots and took over the running of the estate from his father, Jacques. A year later, Chris began to act as consultant oenologist and the 'dream team' was back in business, only interrupted by the pandemic in 2020. Yannick is a hands-on winemaker, very much open to new ideas but is not against incorporating these with some more traditional concepts. Working with indigenous yeasts, zero or low levels of SO₂, little filtration and naturally low yields, the end results are a collection of exceptional wines which have won numerous awards and commendations in le Guide Hachette, Bourgogne Aujourd'hui, le Point, Concours International du Gamay, The Burgundy Report (Bill Nanson) and Wine Pages (Tom Cannavan). Yannick de Vermont is very much one of the rising stars of the Beaujolais region.
BEAUJOLAIS-VILLAGES "Les Verseaux" 2022 - Château de Vaux

Situated on the south side of the village, the lieu-dit of 'les Verseaux' is on a steep, south-facing granitic hillside. The name is likely to come from the fact that 'les Verseaux' faces towards the river Saône (eaux) and sees many hours of sunshine exposure. The de Vermonts own just under a hectare of 40-50 year-old vines, where yields hover around the 40hl./ha. level. The grapes were hand-harvested and sorted on a table de triage, on arrival in the winery, with 50% being de-stemmed. Fermentation was in traditional cement vats for about ten days and then the grapes were-gently pressed and left to finish their malolactic fermentation. Bottling took place in March, 2023.

The 2022 vintage in the Beaujolais region was exceptional and in quality and this class act reflects this, with its rich, intense blackberry fruit, with notes of pepper and peony on the bouquet. A Beaujolais-Villages in name but really a 'cru' Beaujolais in nature and stature.
BEAUJOLAIS-VILLAGES "Le Clos du Valentin" 2020 - Château de Vaux

Named after Yannick and Sandrine de Vermont's son, the Clos de Valentin is situated on a vertiginous schist-infused slope behind the family's house; the vines are 75 years' old, pruned in the classic gobelet format, giving a tiny yield of perfectly mature deep-coloured grapes. 85% destemmed and only a micro-dose of sulphur used at the time of bottling, the bouquet explodes with aromas of cherries, sweet blackberries, spice and rose petals. Very much a full-bodied style with great amplitude and succulence, the tannins are gossamer-fine and there is an unmistakable core of juicy fruit.

Like the more recent 2022 vintage, 2020 was another solar year in the region, resulting in wines with an opulent texture and a dark fruit profile. The quality of the grapes harvested was outstanding and the low yields saw some very deeply coloured wines. They are fruit-driven wines but with the concentration and balance to age.
BEAUJOLAIS-VILLAGES "Le Rosé" 2022 - Château de Vaux

Following on many years of research, Chris Piper and Yannick de Vermont are particularly happy with the 2022 Rosé with its fresh, pale salmon-pink colour, aromatics of spring flowers and ripe red berries and crisp, lifted strawberry fruit on the palate which lingers for a long time. Perfect summertime drinking made from the Gamay grape.
TO VIEW ALL THESE WINES PLEASE CLICK HERE