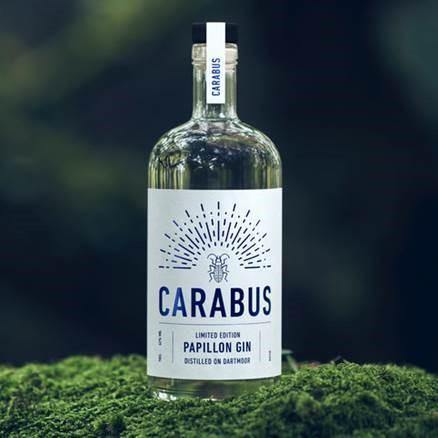 Carabus, Limited Edition Gin from Papillon
Papillon Dartmoor Distillery launches a new gin, Carabus, in celebration of rare Dartmoor beetle.
In collaboration with local TV wildlife presenter Nick Baker, Papillon Dartmoor Distillery have created a new gin, called Carabus, focussed on the Blue Ground Beetle and will be donating to Buglife to help protect it.
The Blue Ground Beetle (Carabus intricatus) is a nocturnal beetle found in the ancient woodlands on Dartmoor. Adults can grow to 3cm long and they have long wiry limbs to help them climb up trees to find their prey. They have large protruding jaws so they can capture slugs and suck out their insides! First discovered in 1811, it was soon presumed extinct until 1985 when it was rediscovered on Dartmoor. It is estimated that Dartmoor represents over 80% of the Blue Ground Beetle population in the UK.
In honour of this rare Dartmoor beetle, Papillon have chosen woodland botanicals for their new gin. Instead of the traditional citrus they have used rowan and hawthorn berries which give a fruity roundness to the flavour. Nettles and wood sorrel provide fresh notes. Roasted hazelnuts and a hint of vanilla leave a lovely pearly lasting finish.
To help protect the Blue Ground Beetle, Papillon will be donating £2 from every 70cl Carabus bottle sale to Buglife, the UK invertebrate charity. It is no surprise that they have teamed up with Buglife because they already donate to Butterfly Conservation with their other two gins; Papillon and The Admiral. As well as donating to the charity, the owners volunteer for a local Butterfly Conservation project.
Nick Baker is very enthusiastic to be involved in this new product and was absolutely delighted when Papillon chose the Blue Ground Beetle to focus their gin around. 'Every delicious sip is putting money into a local conservation project to help secure the woodland habitats of this local hidden Dartmoor jewel. It's perfect.'
Find it HERE