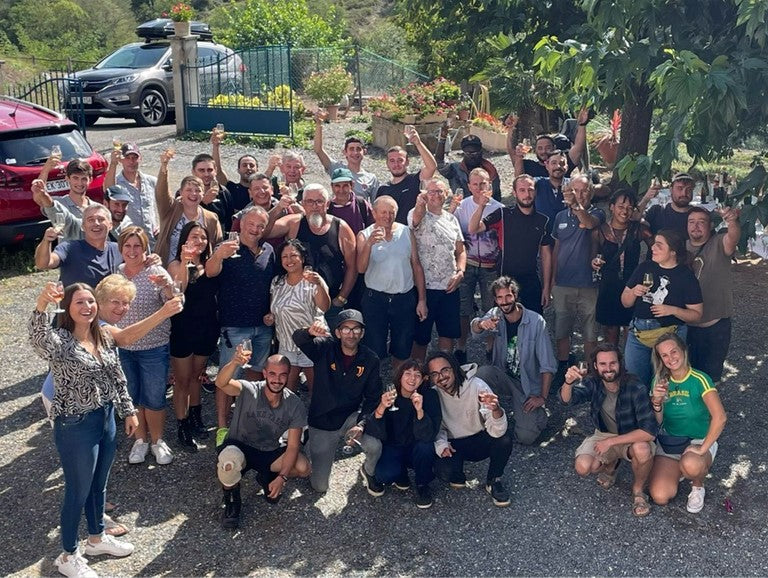 Beaujolais-Villages Nouveau 2023, Chateau de Vaux
Château de Vaux Beaujolais-Villages Nouveau 2023
RELEASE DATE: Thursday, 16th November
AN ABSOLUTELY CLASSIC AND CLASSY BEAUJOLAIS VINTAGE
2023 was, for a change, a much more measured growing season, with the high-altitude harvest in Vaux, starting on 13th September, a relatively normal start date. The build-up to the harvest saw a couple of weeks of strong sunshine and very hot, dry weather, which helped bring on the phenolic maturity and meant that the fourteen day harvest at Château de Vaux, progressed in a predictable and calm manner.
These are big, rich and deep-coloured wines but with an alluring crunchy freshness, due to the cool nights that we experienced throughout the harvest. Alcohol levels are normal at about 13.2˚C - 13.5˚C but what is so noticeable is the depth of the silky smooth fruitiness, ensuring that these are wines that will give us all a great deal of pleasure during the grey and cold of November.
PRICES for 2023  Beaujolais-Villages Nouveau - Château de Vaux AVAILABLE IN STELVIN SCREW CAP
Between 12-47 bottles: £131.76/ doz. inc. VAT (£10.98/ bt. inc. VAT)
Between 48-119 bottles: £128.28/ doz. inc. VAT (£10.69/ bt. inc. VAT)
120 bottles or more: £123.12/ doz. inc. VAT (£10.26/ bt. inc. VAT)
DELIVERY
Deliveries will be during the week beginning 13th November. Legally, the wine may not be opened until 00.01hrs. on Thursday, 16th November, 2023. All delivery charges are as per our web site or price list. 
ORDERS
To pre-order please email: sales@christopherpiperwines.co.uk or give us a ring on : 01404 814139