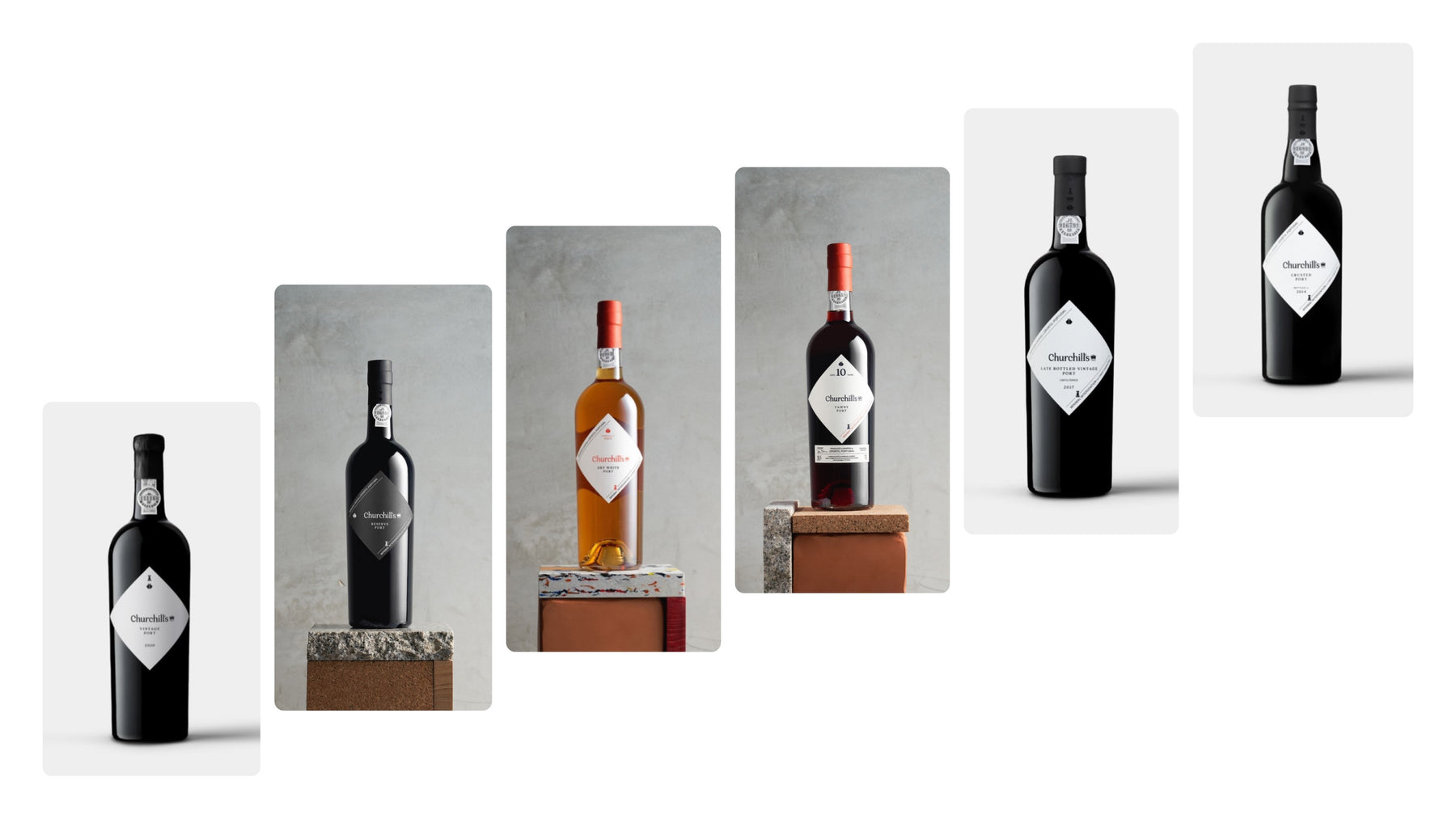 Churchill's Port
CHRISTOPHER PIPER WINES AND CHURCHILL'S PORTS

Churchill's are a family-run port and Douro wine producer based in Vila Nova da Gaia and the Douro Valley. Johnny Graham founded Churchill's in 1981, when he was just 29 years old, to bring a personal, drier style and a fresh vibe to the traditional world of port. Christopher Piper Wines started buying their range of world-class vintage, ruby and wood aged ports in 1992, following our purchase of their first importers, David Baillie Vintners of Exeter. For the past thirty years, Churchill's have been our principal supplier of ports which we distribute to the UK on-trade, the private market and traditional institutional buyers.

CHURCHILL'S TODAY
Johnny still makes the wine and runs the company today, with help from the next generation of his family; who are now the last remaining independent British port house. Churchill's offices are in the ancient trading post of Vila Nova da Gaia, but their home is the majestic Quinta da Gricha, a 50 hectare Grade-A vineyard, located on the south bank of the Douro river in the famous "Cima Corgo" sub-region of the Douro Valley. Quinta da Gricha possesses an outstanding Douro terroir; named after the natural spring (gricha) that feeds the north-facing vineyards, the quinta sits in a microclimate at 150 to 400 meters above sea level, with a wind exposure that naturally regulates humidity. Once the site of ancient tin mines, the Gricha soil retains a graphite and mineral quality. The oldest vines are more than 80 years old and yield diverse grape varieties which in turn produce wines of structure and complexity.
All Churchill's ports are hand picked, twice sorted, and crushed by foot in the ancient treading tanks at Quinta da Gricha. Foot-treading achieves a gentle but thorough maceration of the grapes and skins without damaging the pips and thereby extracts the necessary colour and tannins whilst still preserving the fresh, natural grape aromas and flavours. From the start, Johnny Graham knew what style of port he wanted to create, which are drier in style with a firm grip. This comes from sourcing exclusively Grade A grapes of native grape varietals, from the best vineyards in the Douro. Very important is that Churchill's only use native yeasts during fermentation, slowing the process down and allowing an additional 12-24 hours compared to the industry-standard, to convert higher amounts of sugar into alcohol. The result is more natural wine alcohol, lower levels of brandy, and the signature dry style.
All grapes that come through the winery are treated as equals, as if they are all going to end up in vintage port; all therefore, undergo foot treading and extended fermentation. It's not until the ports make the trip to Porto from the Douro, six months after the harvest, that initial blending begins. Johnny Graham and head winemaker, Ricardo Pinto Nunes, continue to blend by taste, until they are happy with each port wines final positioning in the hierarchy.
THE RANGE OF CHURCHILL'S PORTS

VINTAGE PORT 2020 (current vintage release)
As is nearly always the case, the 2020 vintage is a field blend of Touriga Nacional, Touriga Franca, Tinta Roriz, Tinta Barroca and Tinto Cão. Produced from old vines (50 year-average) from the Cima Cogo and Douro Superior sub-regions. Made in traditional lagares (treading tanks), the ports rested in seasoned oak vats, over the winter, in the Douro. Following this, they are transported to the Churchill lodges in Vila Nova da Gaia, where they are aged for a further 18 months, prior to bottling.
"This is a big, ripe year where the natural acidity of Quinta da Gricha plays an important role in the Vintage blend. With a powerful ox-blood colour, this muscular Port has a fresh vein of tannin that enhances its fruity aroma, bringing vibrancy to its rich, jammy palate and ensuring a balanced and elegant finish. This is a concentrated but fresh Vintage Port with an intrinsic quality to age beautifully in bottle for several decades." - Johnny Graham, 2022.
DRY WHITE PORT
VIBRANT - ORANGE BLOSSOM – SMOOTH
Widely regarded as an iconic white port with its distinctive golden colour and smooth nutty flavours that are a result of skin fermentation, followed by a careful maturation process. Aromas of grated nutmeg and hints of orange peel. No further bottle ageing required and serve chilled between 8˚-10˚C.
CRUSTED PORT - bottled 2014
COMPLEX - SMOOTH - COFFEE
Churchill's are one of the few houses to make Crusted ports, offering an aged vintage experience at a younger age. A blend of wines of vintage quality, from 2 consecutive years, aged in oak casks for 6 months, to ensure a sediment (crust) is thrown; then bottle unfiltered. Greater complexity comes with long bottle ageing. Serve and treat like vintage port.
RESERVE PORT
RICH - WILD BERRY - EXPRESSIVE
This is Churchill's signature house blend, produced from the same vineyards from where the vintage is sourced. Matured in seasoned oak vats for 3 years, its is rich, complex and unusually fruity , with distinc-tive wild berry aromas. Vibrant and expressive with balancing natural acidity and balance. Best served at cellar temperature, with chocolate desserts or soft cheese.
10 YEAR-OLD TAWNY PORT
VIBRANT - FRUITY - FRESH
Sourced from old vine, Grade-A vineyards, in the Cima Corgo and Douro Superior zones. Vinified in traditional stone lagares, it is aged for an average of ten years in oak casks and then blended to the Churchill's house style before bottling. This tawny is a true expression of the art of blending, combining experience, time and wood, to find a balance of freshness and a complex backdrop of coffee and dried fruit.
LATE BOTTLED VINTAGE PORT 2017 (Unfiltered)
ELEGANT - VELVET - DARK FRUIT
Sourced from the best selections of Churchill's Grade-A Douro vineyards each harvest, this is a LBV with real pedigree and ageing potential to match. Matured in large oak vats for 4 years, which is where the port softens, shedding its tannins but without losing its full-bodied rich fruit flavours. Its is then bottled unfiltered, to maintain its structure and complexity.
This is an elegant port with intense aromas of black plums and black currants. Great structure with flavours of dark chocolate with hints of black pepper and a velvety, fresh long-lasting finish.
For Prices and to buy Online please click HERE