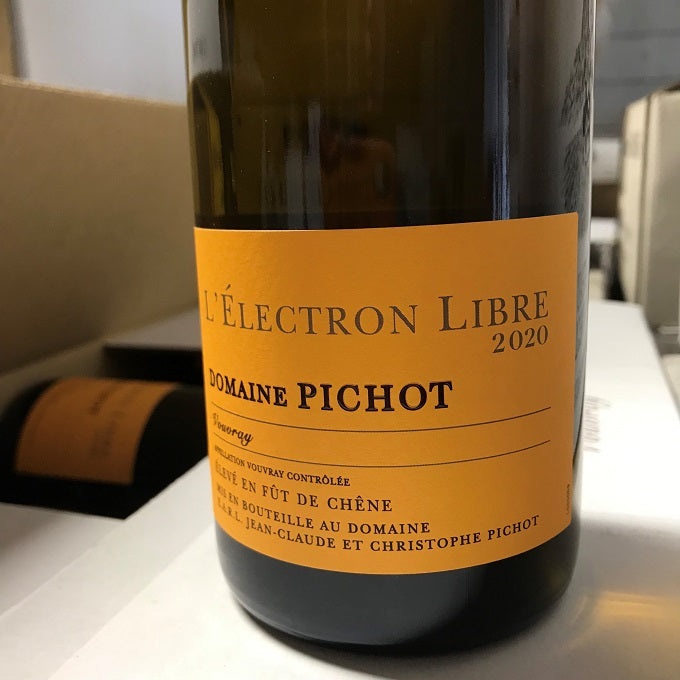 L'Electron Libre, Vouvray Demi Sec 2020, Domaine Pichot
Original price
£33.80
-
Original price
£33.80
Beautiful deep golden yellow color with brilliant reflections.?ÿImpressive nose of concentrated aromas of flowers and ripe fruit.?ÿOn the palate, beautiful aromatic richness, fruit perfectly balanced by the very present minerality.?ÿThe finish is incredibly persistent.?ÿDrink now or over the next 20 years.
The Chenin Blanc grape grown here in the Loire, around Tours, produces some of the most elegant and long-lived wines in the world. The grape has a naturally high acidity, which helps in this longevity, and ensures that even the very sweet style of Vouvray is very well balanced.

The soil in this region is very chalky, and there is a hint of chalkiness on the palate of this wine - The limestone caves in the region are used in huge scale mushroom production, and maybe for this reason the wines seem to accompany mushrooms particularly well.

Jean-Claude Pichot, and his son, Christophe, have been supplying us with Vouvrays since the early 1980s and our original belief that this is one of the finest estates in the central Loire is now widely accepted. For tax purposes, the domaine has been split up between father and son, with Christophe using the name of Domaine du Coteau de la Biche, although all the wines are the same, appearing on different labels at different times of the year!

The Pichots run of recent vintages has produced a wonderful collection of dry, demi-sec and sweet wines. This is the longest established estate in Vouvray (est. 1739) and their current reputation has been built on their obsessively low yields and rigorous triages during the harvest - the 1995 Vouvray Moelleux Collection is the result of a third tri right at the end of the harvest, for example. Robert Parker recently wrote that these wines represent uncommonly natural expressions of both Chenin Blanc and terroir. These are totally authentic products of great class, character and individuality.