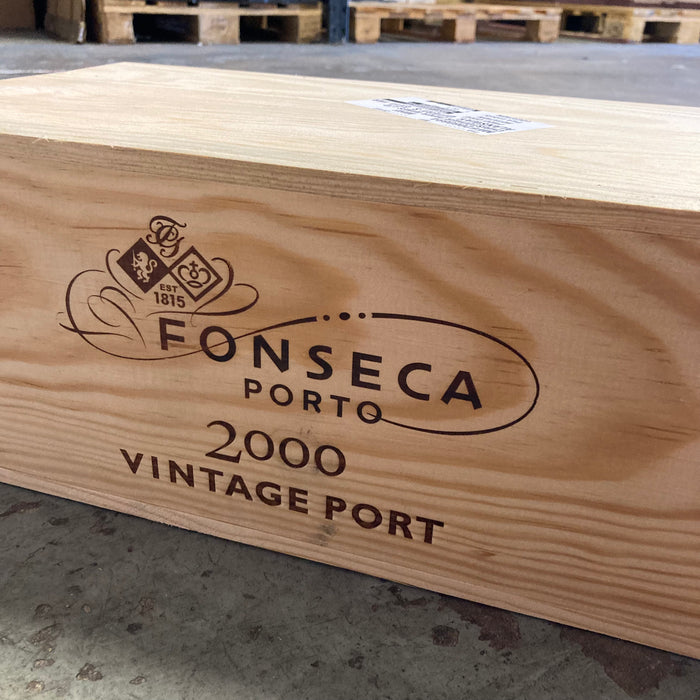 Fonseca 2000 Vintage Port
Original price
£83.70
-
Original price
£83.70
Intense purple black colour. The nose is bursting with potent complex fruitiness. The fruit is rich and luscious, a harmonious blend of blackcurrant, cherry and plum. It is full-bodied on the palate with tightly-knit, chewy tannins which provide both volume and structure. the succulent jammy fruit flavours seem to last forever in an incredibly long finish. A big opulent wine in the Fonseca tradition. Drink 2015 to 2035+.

Guimaraens was founded in 1822, when Manuel Pedro Guimaraens acquired control of the Fonseca & Monteiro Company through purchase of the majority of the Fonseca holdings. As a condition of the sale of his shares to Guimaraens, the departing Fonseca stipulated that his name be retained. Not long after this purchase, Manoel Pedro Guimaraens, a supporter of the liberal cause in the 'War of the Two Brothers', was forced to flee Portugal hidden in an empty port wine cask. He settled in England, where his company remained based until 1927, when the headquarters of the firm returned to Portugal.

During this period, Fonseca grew rapidly in reputation and importance. By 1840, the firm had become the second largest shipper of Port Wine and in 1847 the first Fonseca vintage port was shipped to England.

Family has been a part of every Fonseca Vintage Port. Frank Guimaraens made all the vintages beginning with the 1896 through to the 1948. His daughter, Dorothy Guimaraens, following his death, made the 1955. Bruce Duncan Guimaraens, great-great grandson of the founder, made every Vintage from 1960 through to the 1992. As for the 1994 Vintage, Bruce Guimaraens' son, David Guimaraens was responsible for this extraordinary award winning port wine. This remarkable continuity of winemaker is clearly evident in the wine.