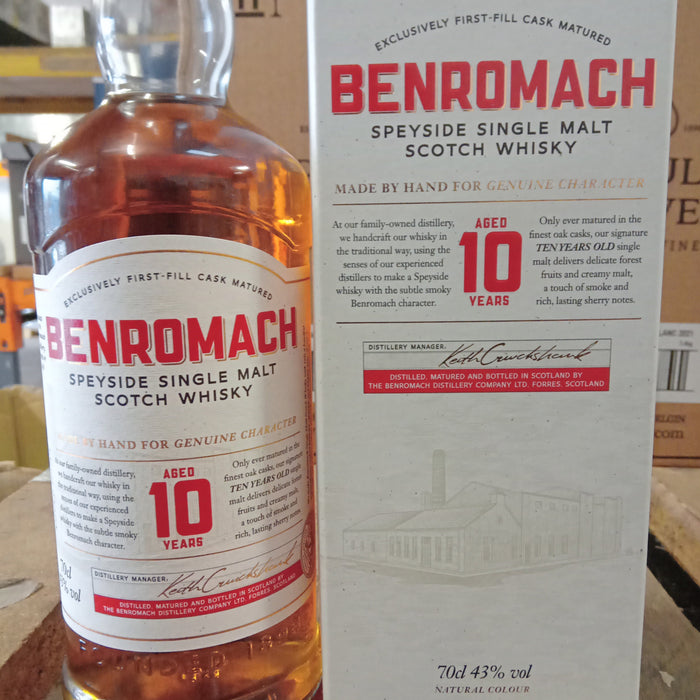 Benromach 10 Year Old Speyside - 43% Abv
Original price
£42.10
-
Original price
£42.10
Delicious forest fruits and creamy malt. A wisp of smoke and lingering, luscious sherry notes.
Using the finest natural ingredients this makes a gorgeous classic pre-1960s Speyside character: beautifully balanced with a light touch of smoke.
Benromach say: "Pour yourself a dram of Benromach not too wee and not too big. Swirl the golden liquid around your glass and notice the AROMA WITHOUT WATER. In other words, take a sniff. Indeed, indulging in several little inhalations is the best way to pick up all the different notes: rich sherry with fruit & nut chocolate, delicate spice, green apples, malty biscuit and a touch of light peat smoke. Now sip your dram, roll the whisky around your mouth and enjoy the TASTE WITHOUT WATER juicy raspberries and brambles, sherry, creamy malt and a light peat. Next, take in the AROMA WITH WATER it's a wee bit nutty with a touch of charred oak and malt, and there's also some fancy pineapple and kiwi. Add a drop or two of water to release the full TASTE WITH WATER. Savour the succulent mouth coating and taste the toasted malt, delicate peat smoke and lingering sweet sherry our gorgeous classic Benromach Speyside style of single malt whisky."
80% Bourbon Barrels, 20% Sherry Hogshead. Final year in first fill Oloroso casks. 43% Abv.
Drink or Keep
Digestif
Dry
Spirit
Golden
Grain
Speyside, Scotland
Benromach
10 Year Old
N/A